BetWGB Nigeria Review
BetWGB Nigeria
Does Not Offer Bonuses
Winners Golden Bet Overview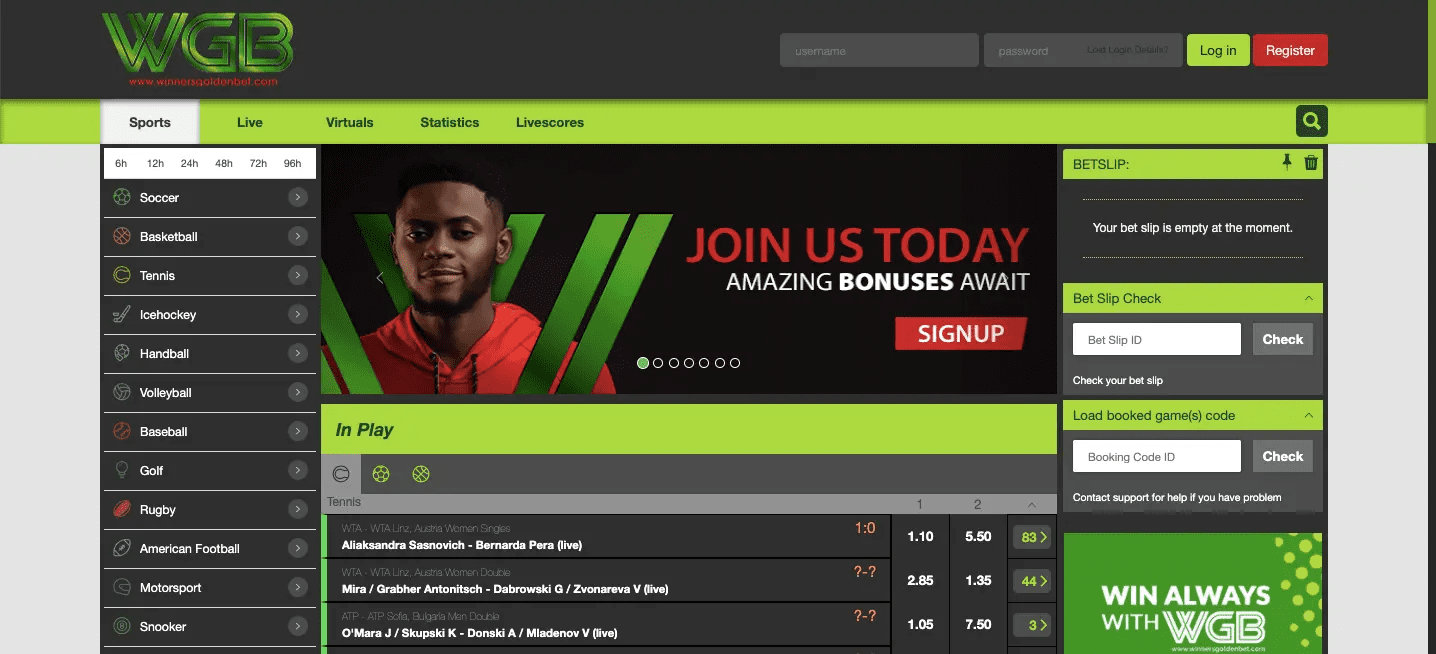 Founded just recently in 2013, Winners Golden Bet is an online sports betting operator to become Nigeria's most reliable online sports betting provider in Nigeria and across its neighbouring nations.
This operator is home to more than 200 football events from almost every corner of the globe. Besides supporting sporting events such as Formula 1 racing, Tennis Tournaments, and Rugby, Winners Golden Bet also supports several Basketball leagues.
Visit Winners Golden Bet
Desktop & Mobile Gaming
Winners Golden Bet is one of those operators who wants to provide best-in-class sports betting services. It runs a user-friendly website that's rated top-notch based on its loading speeds, efficiency, and user-friendliness.
Something ideal about its WGB is that it's easily accessible via any internet-enabled device. As noted earlier, players can wager on more than 200 sporting activities played around the globe.
As an online sports betting enthusiast, you are at will to bet using a smartphone device or your personal computer. Are you placing bets using your personal computer? If so, then use the URL www.winnersgoldenbet.com.
This website efficiently supports PC browser software with flash-player such as Mozilla Firefox, Google Chrome, and the recent Microsoft Windows Explorer.
If you are a heavy smartphone user, you won't be disappointed either. Winners Golden Bet runs excellent betting software on popular operating systems such as iOS, Windows, and Android.
But you need to be aware that you may have to download the Winners Golden Bet homepage software since Google doesn't support betting apps on its store.
Features & benefits
Winners Golden Bet comes with several player benefits worth noting. Besides several sports betting odds and events, players can bet on almost any game(s) they like here. All this comes with the promise of earning handsomely.
Players can wager on several betting options, such as Home/away win in football matches and other sporting events. If you so wish, you can wager multiple bets if you intend to multiply your winnings.
That's not all to enjoy here. This operator allows customers to bet on live events, virtual games, and live streaming services.
Reliability of BetWGB.com
Acquiring a sports betting license from the Lagos State Lottery Board (LSLB) isn't a walk in the park.
Operators must meet several requirements required by regulating bodies before and after issuing an operating license. Among other things, this should be a perfect reassurance that your hard-earned cash is safe and earnings a guarantee if to strike it lucky.
To further reassure you that you are wagering at a reliable online casino, Winners Golden Bet is home to thousands of bettors from all almost every corner of Nigeria. Here, you are assured of your winnings hitting your account in less than 24 hours, making this operator an ideal firm to work with anytime.
Betting options, live-betting, live streaming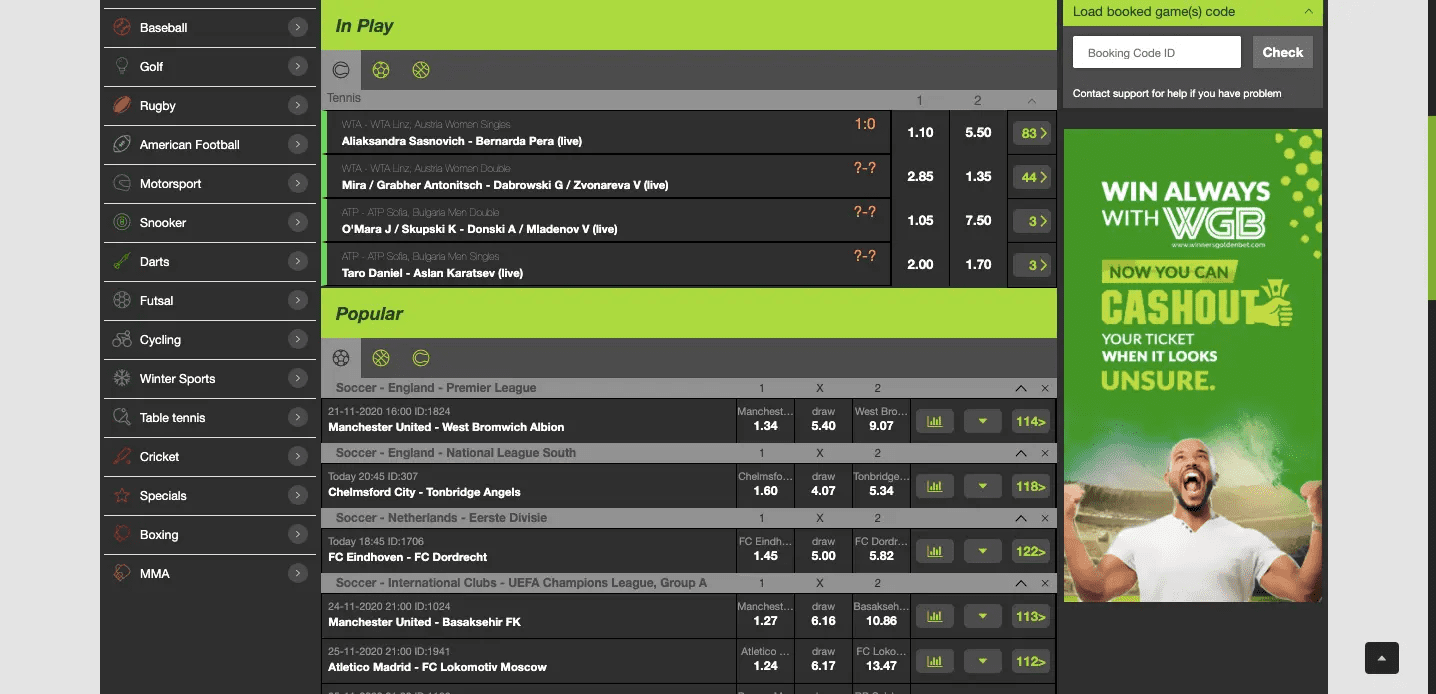 Winners Golden Bet offers a plethora of sports betting events, from soccer bets to other events such as volleyball, tennis, cricket, hockey, and basketball, to mention a few. You can place bets on these events in several fo,rms such as in-play, live streaming, virtual play, multi-b, etc.
If you place multiple bets, you can combine several selections from different sports betting markets into a single bet. For example, you can select "Manchester United to be the first team to score" + "Real Madrid to draw their match" and "Bayern Munich to finish their game with a 3:2 scoreline" all in a single ticket.
Support all your selections ns come out as you had predicted d, and then you win in multiple folds. But suppose one of your yoselectionsion doesn't materialize, you'll lose your entire bet.
Are you worried that you be unable to place your bets once the games are underway? Worry noUntiltil the final whistle; Winners Golden Bet offers you an opportunity to wager on live events, all with the promise of attractive live-betting odds.
With a bountiful of betting options,, you can't run out of the options of your choice. To spruce up things, Winners Golden Bet offers its customers virtual sports. Here, players encounter High-Definition and supposedly real videos where satisfaction is guaranteed in any virtual game, such as Dog racing, Horse racing or Basketball.
The maximum amount of winnings per game is 10,000,000 Nigerian Naira.
Visit Winners Golden Bet
Leagues Covered
Some of the leagues covered here include:
NBA
UEFA Champions League
Seria A
UEFA Europa League
Bundesliga
Betting Limits
At WGB, there are limits for deposits and withdrawals for different payment options. For bettors that resort to accredited betting options, the minimum deposit is 100 Nigerian Naira.
On the other hand, the minimum deposit limit is 500 Nigerian Naira for those who get to use this online betting platform. 200,000 (accesses) Nigerian Naira is the maximum amount players can wager on a single game.
The maximum amount a player can win at Winners Golden Bet is 10,000,000 Nigerian Naira. The maximum withdrawal amount allowed here shouldn't be more than 500,000 Nigerian Naira.
All online sports betting sites must comply with this policy from the Central Bank's policy. Playewhohat takes advantage of accredited betting outlets and can cash their winnings at Winners GoldBet'sBet office during business hours.
Bonuses on BetWGB

Sadly, Winners Golden has no signup offer for their customers. But at arbitrary periods of the year, they offer their customers some irresistible promotional offers to their customers and agents.
Visit Winners Golden Bet
Rules and Registration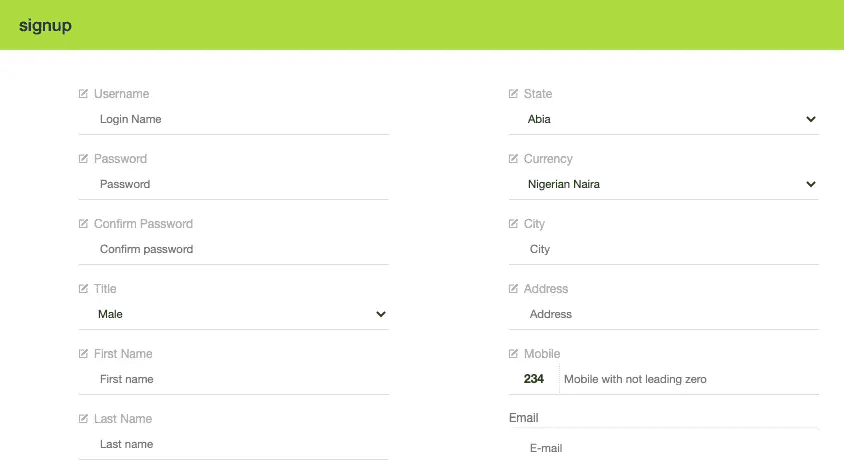 Based on industry standards, players who've attained the minimum legal age of betting (18 years) are able to bet in sports betting at Winners Golden Bet site.
However, Winners Golden Bet is an LSLB-compliant sports betting firm. Therefore, any underage player has no room to wager on this website.
The signup process is quite fast here, taking less than a minute, two maximum. During signup, the data players provide must match what is found on their IDs.
All this is to ensure the verification process takes place fast. Below are some of the most compelling rules that players need to stick to before placing their bets with WGB:
WGB can delay settlements up until the official confirmation of results.
40 is the maximum number of games allowed on accumulator tickets.
Players should not lose their tickets, as there could still ll a chance of their bets winning. The whole ticket is void if a single game on an accumulator ticket is lost.
WGB doesn't allow third-party wagering.
Each individual must use one betting account—duplicate accounts gean t automatic suspension.
Before betting, you must agree to all the terms and conditions. It's important to go through these terms and conditions before wagering.
Visit Winners Golden Bet
Features of Deposits and Withdrawals
The official currency here is the Nigerian Naira. Such makes deposits and withdrawals easy. Payment options supported here include Paystack, Flutterwave, Interswitch, and all cards issued by local banks. Players can also fund their accounts using any FCMB branch in Nigeria or through any accredited WGB payment agents.
Of importance to note is that the identity/name you used when signing up at WGB must fully correspond with the ban account name you'd wish to get your funds if you win.
Customer support on WGB Nigeria
WGB runs a professional customer support department. The attendants here are friendly and professional. They listen to customer queries and offer solutions in a timely and professional manner. You can contact them via the following means:
Screenshots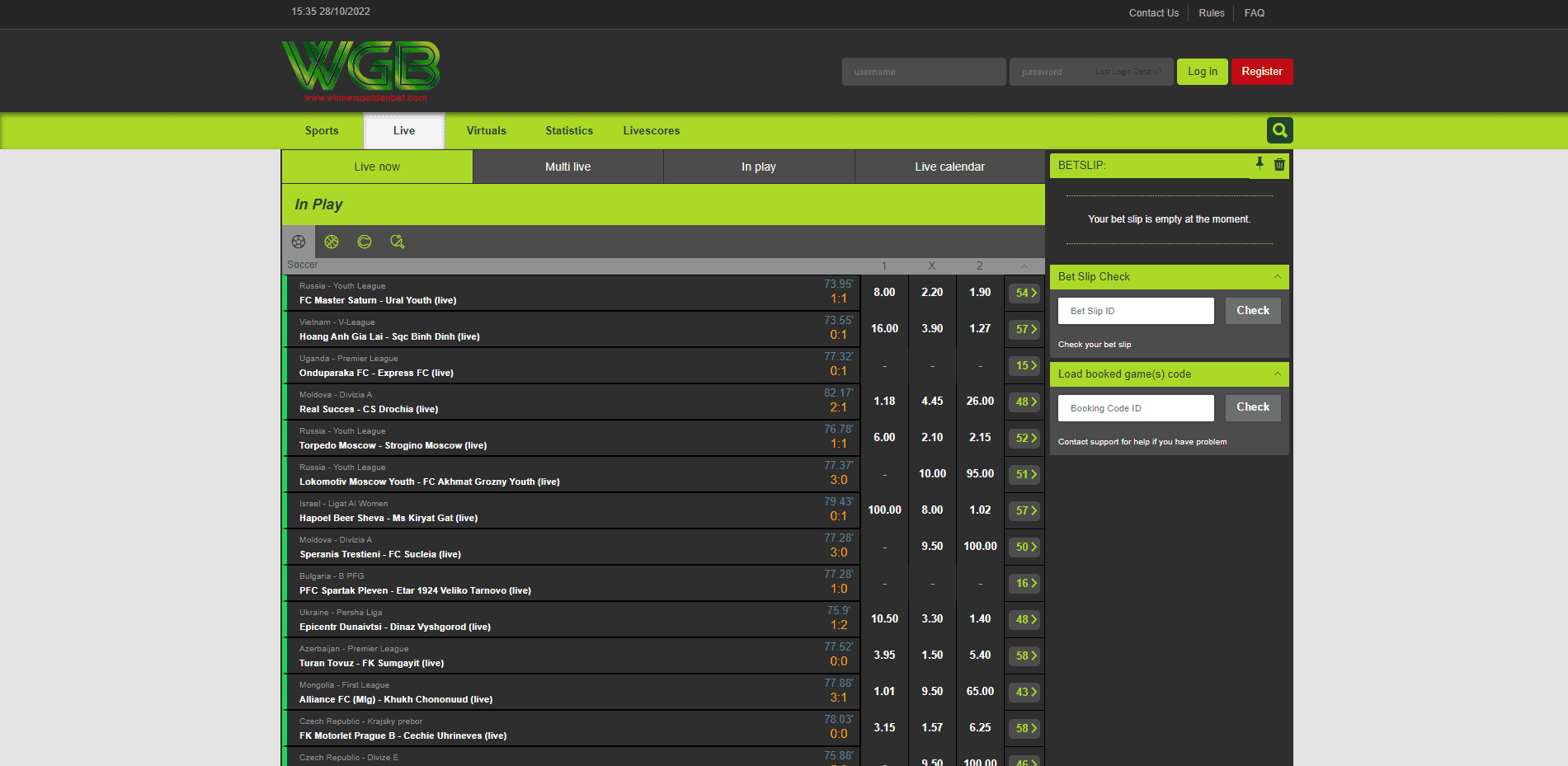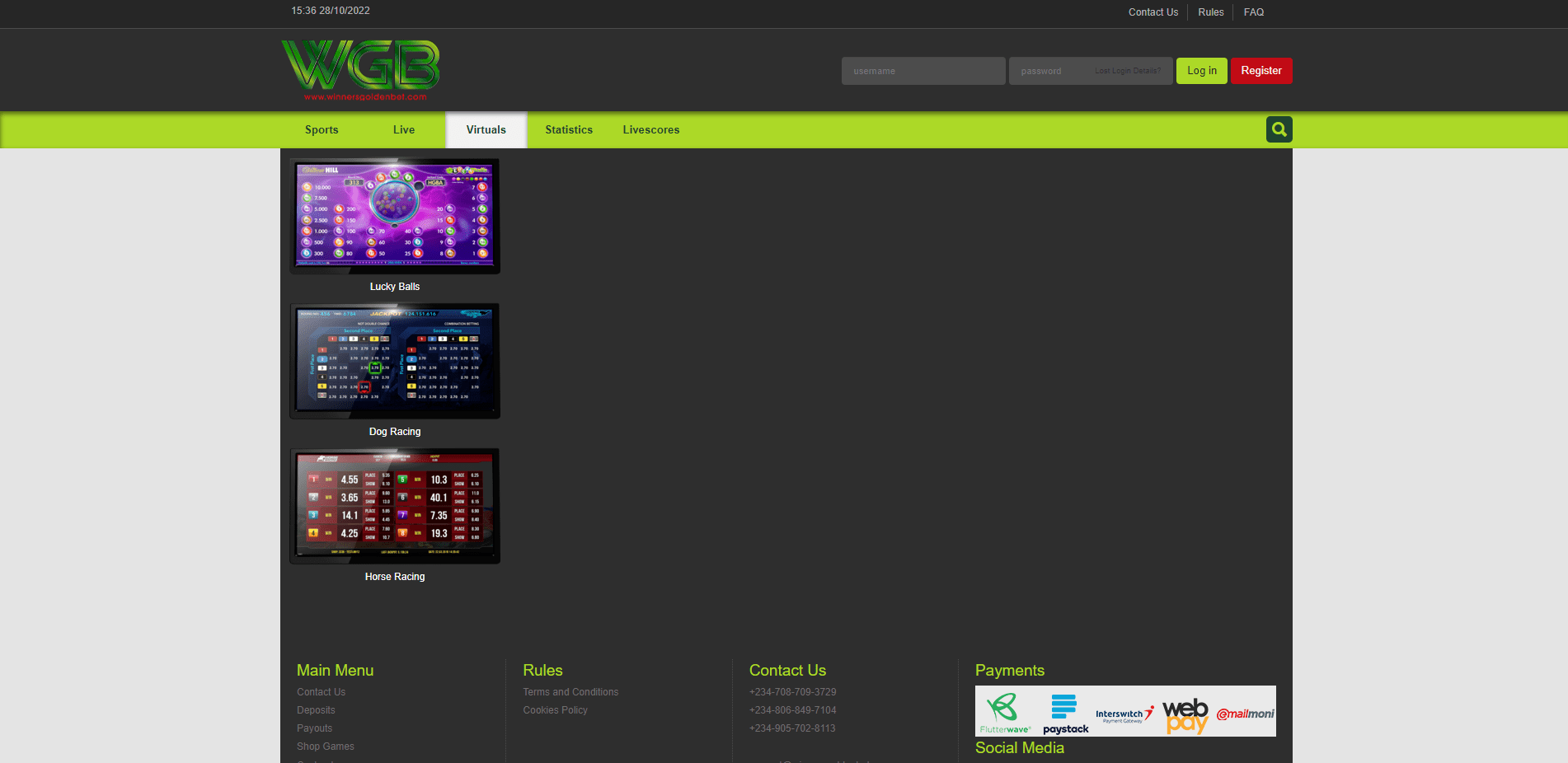 Todays Offer


0/5
Welcome Offer
Does Not Offer Bonuses
BetWGB Nigeria Highlights
No highlights are registered
Short Summary
Winners Golden Bet Overview Founded just recently in 2013, Winners Golden Bet is an online sports betting operator to become Nigeria's most reliable online sports betting provider in Nigeria and across its neighbouring nations. This operator is home to more than 200 football events from almost every corner of the globe. Besides supporting sporting events...


Visit Website