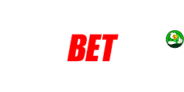 SureBet247 Review
SureBet247
100% up to ₦25.000
SureBet247 Overview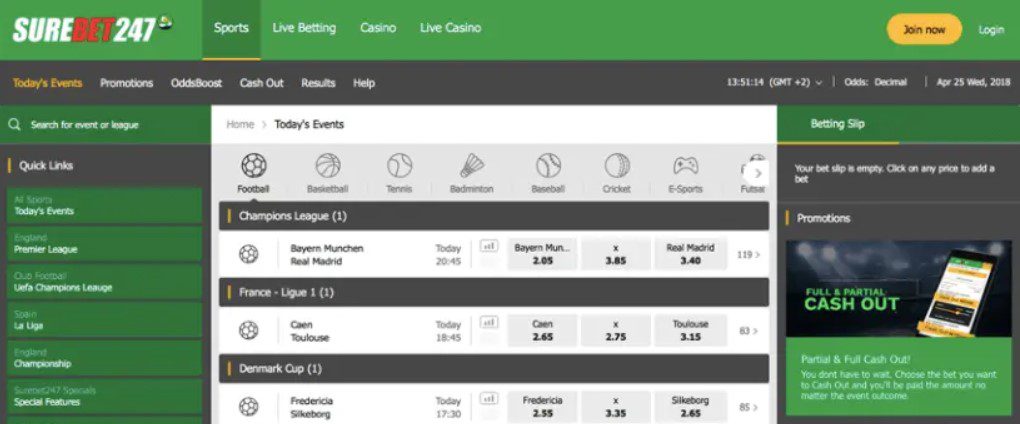 Are you a passionate online bettor searching for a great gaming platform in Nigeria? If yes! You can't miss this! Nigeria is the heart of some of the best online bookies. You heard it right! For instance, they got SureBet247.It's an exciting gaming platform that has more to offer than just a gaming experience. This Surebet247 review articles reveals everything you ought to know about SureBet247.
History of SureBet247
SureBet247 is a popular Sportsbook in Nigeria and it's stealing the scene in Ghana as well. Of course, it was after its founders had established branches in Ghana.
Established in 2011, Surebet247 is among the fast-growing online sportsbooks in Nigeria. It had a small beginning, but it has grown into a giant gaming platform. ChessPlus International Limited runs SureBet247 Sportsbook. Besides, it's Licensed and controlled by the National Regulatory Commission and Lagos State Lotteries Board.
The headquarters of this online bookie is in Lagos city. SureBet247 takes pride in its 5-star reviews from happy players. Given the luring welcome bonus plus other attractive features of the SureBet247 gaming platform, the increasing demand is not surprising.
This Nigerian-based betting platform features enticing welcome bonuses and surplus live betting opportunities. For players that hate complex stuff, this should be your online gaming platform. It has a user-friendly interface, not to mention the competitive odds.
Additionally, it has an unmatched customer support system. This is attributed to their love and high regard for their users. Therefore, everything about the players comes first. The promotions offered and top-level security will impress you. Apart from having an attractive design, it supports mobile and desktop versions. The online bookie presents users with splendid opportunities and favorite markets. It's the right platform for placing bets without hassle.
SureBet247 has made banking easier by providing multiple banking options. So, you won't have problems depositing or cashing out your wins. Its primary payments options are Naira MasterCard, Verve, Wema Bank, Visa just to mention but a few.
Interestingly, your withdrawals from this casino can be processed through mobile transfer if you like. Just to add on that, the withdrawals attract zero fees and take less than 24 hours. The platform accepts players from Nigeria, Ghana, Benin, Cameroon, and Kenya only.
Visit Surebet247
How to open an account with SureBet247
If you want to register with SureBet247 and enjoy all the privileges that come with the online bookie, follow these steps;
Visit surebet27.com site and hit the 'register' button located at the top on your right side of the website.
Fill in your details from the registration form.
Input a username, email address, phone number, date of birth, and a password.
Add a Marketing code (not mandatory)
Click the terms and conditions checkbox to accept the terms (Mandatory)
Once you are done hit the 'register' option at the bottom.
If you have clicked the 'Register' option, Congratulations! You already have an account with SureBet247.
SureBet247 Website Interface and Usability
Surebet247 site is very easy to use with impressive features and attractive design. Its friendly user interface makes it possible for players to find their preferred markets and features, respectively. Besides, it's easy for the players to place their bets.
The red, black, and green color scheme creates a striking impression of the site.
The tabs are strategically placed at the uppermost section on the page. Therefore, you effortlessly go through SureBet247 live and virtual games, or any other sports event. Still, at the top of the site, there is the search engine option that allows you to search for your favorite games. This is an excellent feature that you won't just find in any other bookmaker.
Additionally, the online gaming platform allows Nigerian bettors to access live premier sports events, offering quick links leading to current matches such as Spanish football, Champions League, and English premier league available. The platform also provides up-to-date sports news plus sports bookmaking prediction review. This is meant to help you make accurate predictions.
The site supports English as its primary language. There are other languages supported, but English is the official language in Nigeria. Hence, it makes everything easier for Nigerian bettors. All the same, Surebet247 lacks a table to show punters' statistics. Generally, SureBet247 site is a home for all enthusiastic players but they advocate for responsible gambling practices. You must be of the legal age to play on the platform.
SureBet247 Game Selection and Software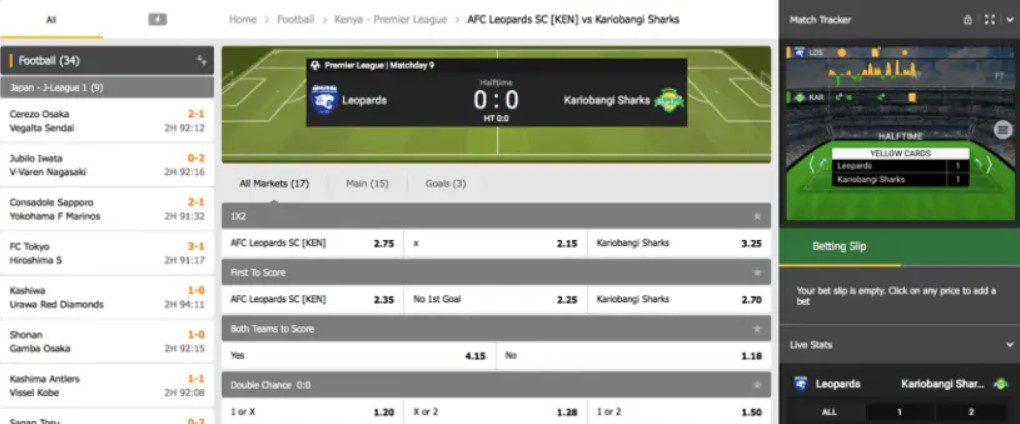 SureBet247 online gambling site offers a wide-range of betting services. Below is a breakdown of their gaming platform capabilities and gaming products.
Virtual Sports: SureBet247 allows you to place a bet on virtual sports including horseracing, soccer, and greyhounds among others.
Live betting: It allows bettors to place live bets on badminton, table tennis, handball, football snooker and pool, and so on. Football gets a higher priority on the platform. The incredible game has over 1,300 markets. Players bet on the winning teams in the match and the number of scores. To access the markets hit 'Live betting' icon available on top of the page. Note, SureBet247 differentiates them into 2 categories which include upcoming and current events. Further, this bookmaker features striking odds for such markets.
Sports betting: SureBet247 allows the placing of bets on over 43 sports. Football and tennis derbies are highly prioritized. The platform acts as a mirror to reflect the operations of every match. Other sports include cricket, football, tennis, golf, handball, snooker, pool, and handball.
Visit Surebet247
Live Streaming
Surebet247 online gaming platform lacks a live streaming option. But that's expected given the small size of the bookmaker. This is quite frustrating though. Most modern online bookies have a live streaming option. The latter is a feature that allows a player to place bets concurrently watching live competitions as they happen. Nevertheless, Surebet247 boasts of several virtual betting markets that are quite prominent.
Odds Boost
SureBet247 Online gaming platform provides odds boosts on specific markets. The odds Boost are accessible on the Odds Boost page. Besides, you can view them through a mobile or desktop version. Odds Boost offers players the chance to make big wins on premier sports events. Nevertheless, the SureBet247 Odds Boost feature is linked with specific terms and conditions. They are as follows;
The minimum bet amount is N500 for the player to use Odds Boost
Players are not allowed to incorporate Odds Boost in multiple bets
The Odds Boost feature is compatible with the tablet, desktop or mobile version
SureBet247 has the mandate to modify or cancel the feature as it pleases.
Cash-out
This feature gives players ultimate control on their single and Acca bets. Hence, the player can settle their bets before an event ends. Players prefer cashing out open bets to avoid losses or to secure their wins. The Surebet247 Nigeria cash-out can be applied either partially or in full.
SureBet247 Bonuses and Promotions

SureBet247 has a good range of bonuses and promotions both to new and existing players. Below are some of its major bonuses;
Welcome bonus: They offer a generous new player's bonus. For instance, upon opening your account, you get a 100 percent welcome bonus. This is what happens. You make a minimum deposit of N1000. That way, you get an additional 100 percent up to 25,000 Naira, but this is after you have exhausted your deposited funds. Players have thirty days to fulfill the betting requirements and you must meet them before making any withdrawals.
NBA Deposit Promo: This online betting platform offers the player a bonus of 15% up to N5000 to place bets on NBA games. You are required to make a minimum deposit of N2000 and be sure to use (NBA19) promo code. To claim the 15% bonus, you must have used about 50% of your deposit.
Accumulator Boost Bonus: SureBet247 accumulator boost offers extra winning to players. This bonus pays up to 45 percent additional cash on bets that have about 5 selections.
E-sports Bonus: They entitle players to a maximum of N3000 on eSports wagering bonuses. To get this bonus, use the bonus code to deposit 1000 N in your account.
First Deposit Virtual bonus: To get this bonus, the player has to make a minimum deposit of N2000 in their account. After that, you will get the first deposit virtual bonus of N1000.
Triple Deposit offer: This one requires bettors to deposit about N10000 or more and get N1000 sports bonus, N500 sports free bet, and N500 casino bonus.
Reload Bonus: It entitles you to a reload bonus after topping up your SureBet247 account. The reload bonus is 25 percent up to 10,000 Naira.
20% Free Bet: Once you deposit using your mobile phone, it entitles you to a 20% mobile bonus to a maximum amount of 3000 Naira.
Social Media Free Bet: This bonus is for players who take part in SureBet247 online bookie social media promotions. Several gifts are up for grabs. Follow or like SureBet247 on Twitter or Facebook, and join the contest.
Visit Surebet247
Mobile Gaming
SureBet247 Sportsbook supports mobile gaming with a native mobile app. That way, you are not limited to only playing on the online bookie site. The gaming platform is downloadable on Android and iOS devices. It offers a free download option which is a simple and quick solution to mobile users. Unlike some other apps that consume more data in the market, the Sure247 app is slow on mobile data as it is adapted for mobile use.
If you are not for the idea of downloading the app, you can have the option of using the mobile site. Note SureBet247 mobile site has similar features with its desktop pages. With SureBet247, players can use their mobile devices to deposit funds in their accounts. Also, they can place wagers and even utilize the top-notch customer service from SureBet247 mobile site and app.
Payment Options
SureBet247 provides its customer with a wide range of options. You can use either of the following methods to deposit or withdraw your winnings;
Naira Master Card
GTBank USSD Code
Visa
First Bank
United Bank of Africa
Pay with Visa SQ Code
Zenith Whilst
Verve
Wema Bank
Depositing funds or withdrawing your wins at SureBet247 is effortless. They process withdrawals in 24-48 hours during working days. The minimum withdrawal amount is N3000 and the maximum amount is 500,000Naira. There are no charges applied in processing the withdrawals.
Surebet247 don't allow users to withdraw funds unless they win. Therefore, you can't withdraw funds after making a deposit. But if you use your deposited funds to win, you can make a payout request. The minimum deposit is N1000 while the maximum deposit is N 1,000,000. Note, the site only accepts Nigerian Naira currency.
Withdrawals are processed after the user has confirmed their details. You do so by submitting identification documents copies. This is meant to enhance security.
Customer Support
Surebet247 has a supportive customer care system. However, their contact methods are limited. The available options are messaging, phone, and email features. Nevertheless, the company keeps improving its response time. It has competent and courteous agents who are ever at your service.
They are well-informed in matters related to the platform and betting. Thanks to their many years of service, the agent can handle the technical stuff. They are available on all working days and use English as the primary language. Other languages supported are French, Turkish, Latvian, and Greek. If need be, contact their customer care to speak to a professional and courteous customer support staff.
Security and reliable
SureBet247 is a 100% secure and reliable platform. They have been in operation since 2011. So far, they have no negative feedback in terms of their security measures. It's a legal company holding a gambling license from the State and the federal government. This includes the Lagos State Lotteries Board and Nigeria Regulatory Commission. By the fact that the company is certified, it means that it's legit.
The bookmaker has added measures to safeguard all transactions. For instance, there is the 128-bit-SSL encryption feature. This feature optimizes security preventing interference or threats from third parties.
Generally, SureBet247 is a reliable gaming platform that protects the rights of its customers. Additionally, they added limit options on the platform and that's an added advantage. These are limit options such as Bet limits, time limits, self-exclusion limits, deposits limits, and lose limits.
Therefore, users can select any of the limits options and self-exclusion on the site. The platform has the KYC method including payment method, utility bill, and identification document among others.
SureBet247 encourages responsible gambling. They do not allow visitors below 18 years to bet on the platform. At the bottom side of the Bookmarker site, you will see the privacy policy icon. Click on it for further clarification on security measures put in place.
Verdict
Surebet247 platform is a home for Nigerian players who want to get an exceptional betting experience. The platform has features of a modern gambling site. Besides, the Bookmaker is expected to rise to greater heights in the near future. Register today and be part of the classic Surebet247 community boasting of striking games and generous bonuses.
Screenshots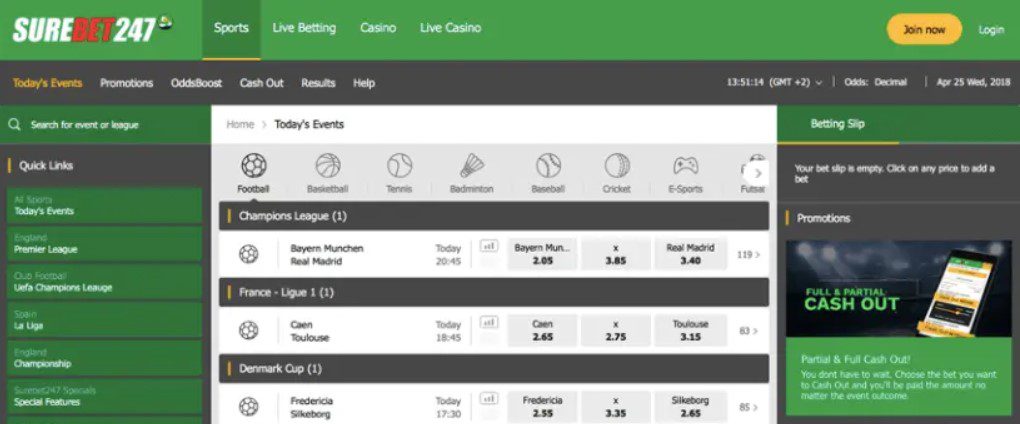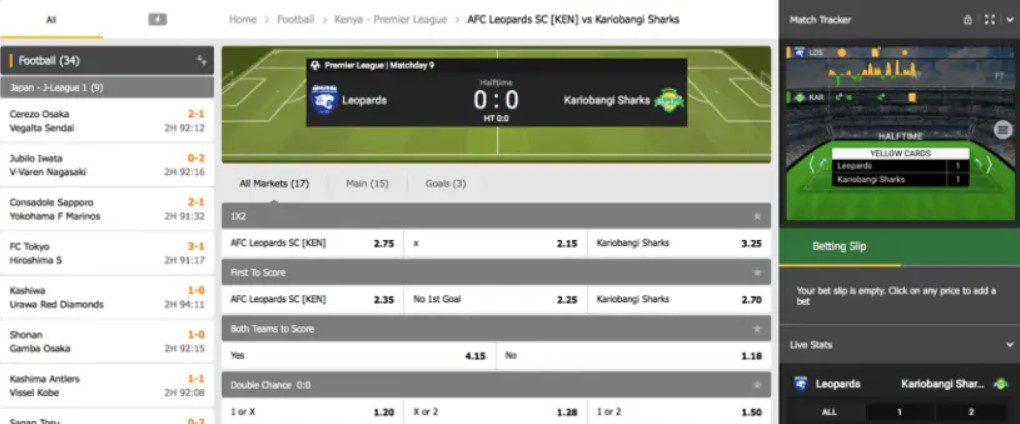 Frequently Asked Questions
FAQ
Yes, Surebet247 is a legal betting site licensed by the Nigerian National regulatory commission.
Yes, Nigerian bettors can place live bets on a wide range of games including football, cricket, and tennis to mention a few.
Surebet247 allows players to wager on mobile via USSD or by visiting the Surebet247 mobile site.
Yes, new players receive 100% matched sign up bonus up to ₦25,000.
Yes, Surebet247 uses the latest security measures to safeguard players' information.
Todays Offer

0/5
Welcome Offer
100% up to ₦25.000
SureBet247 Highlights
No highlights are registered
Short Summary
SureBet247 Overview Are you a passionate online bettor searching for a great gaming platform in Nigeria? If yes! You can't miss this! Nigeria is the heart of some of the best online bookies. You heard it right! For instance, they got SureBet247.It's an exciting gaming platform that has more to offer than just a gaming...

Visit Website