Select.bet Review
Select.bet
100% Welcome Bonus Up To 100€
Select.bet Nigeria Sportsbook Overview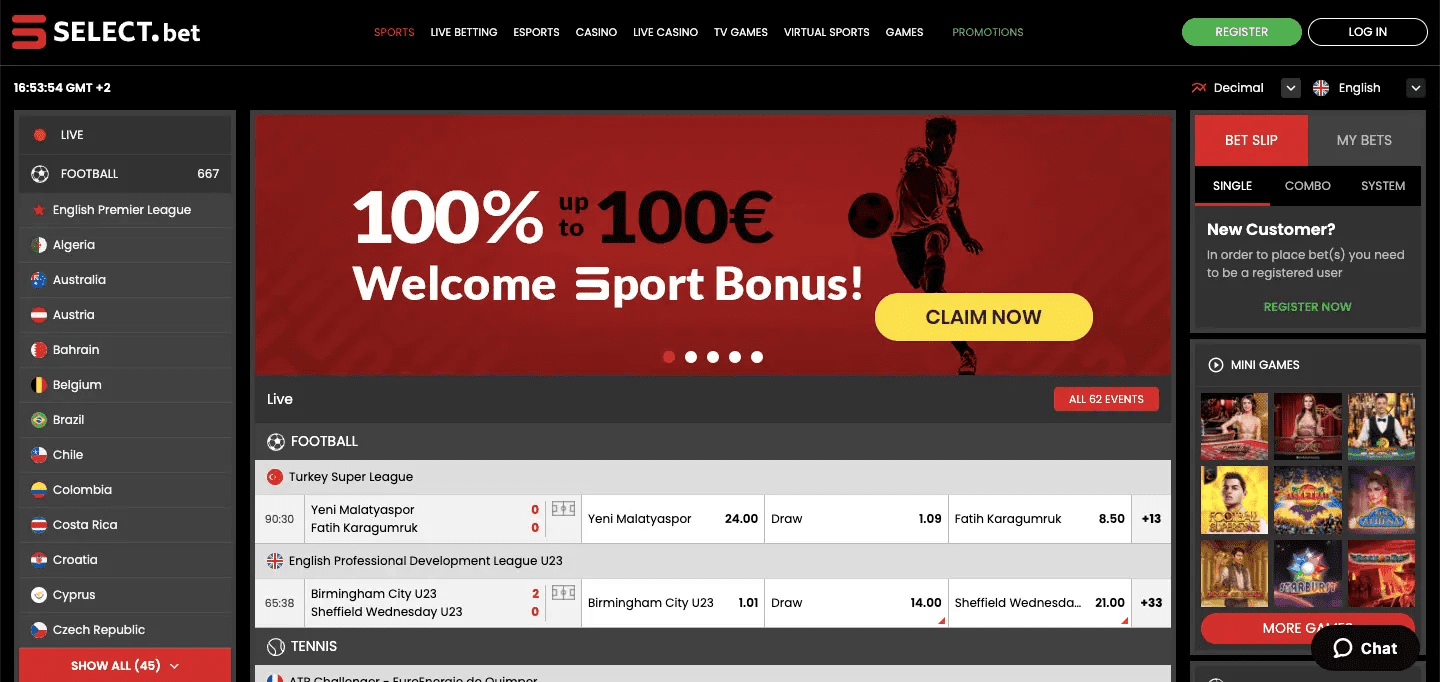 Launched two years ago in 2019, Select.bet is one of the newest online bookies from Bellona N.V. Gaming Group, a firm based in Curacao. Besides being a new addition across the online sports betting industry, this bookmaker is working extra hard with an attempt of breaking into what's becoming a very competitive marketplace.
Select.bet is fast turning out to be a popular online sports betting site, especially across Nigeria's online sports betting market. Sincelect.bet is still new to the online sports betting industry, we established that they haven't received any awards yet. However, that's not to say that you shouldn't place your wagers here.
Select.bet offers its Nigerian customers a wide array of safe and convenient payment options, plenty of games and betting options, and a site that's quite easy to navigate. Signing up for an account here is very fast and in less than five minutes, your account should be up and running.
So, is Select.bet Nigeria worth checking out? Is this site a wonderful place where you can place bets? Well this is an in-depth and honest review of Select.bet for Nigerian online sports betting enthusiasts thinking of signing up with this bookie. This review highlights crucial areas such as Select.bet's games and betting options, pros and cons, customer support, and banking methods, to mention but a few. Let's dive in.
Visit Select.bet
Quality of the platform and website usability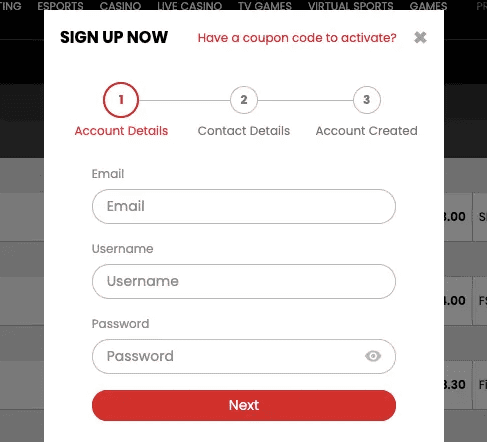 Website usability is important. Your customers should be able to find anything that they are looking for within the shortest time possible. The developers of Select.bet had matters concerning website usability when designing their website.
Select.bet Nigeria boasts of a website that users will find very easy to navigate. The overall presentation of the website is appealing, especially to a first-time user. It consists of certain dynamic features coupled with a straightforward navigation. New Nigerian bettors will find the website intuitive and easy to use. Finding what you are looking for isn't a hard task as such.
You'll find Select.bet's bonuses and promotions on the top half of its page, and on the left navigation panel, you should be able to view the entire A-Z sporting market available here, including local Nigerian events as well as international ones.
Unlike other sportsbooks where locating your favorite events may be quite challenging, such isn't the case at Select.bet. You can utilize the search function to find any sporting event that you are looking for.
The pages load fast and the available links direct you to the intended place in seconds. Even though English appears to be the dominant language here, Select.bet supports several other languages such as French, Norwegian, Korean, Russian, and Swedish.
Visit Select.bet
Games available and betting options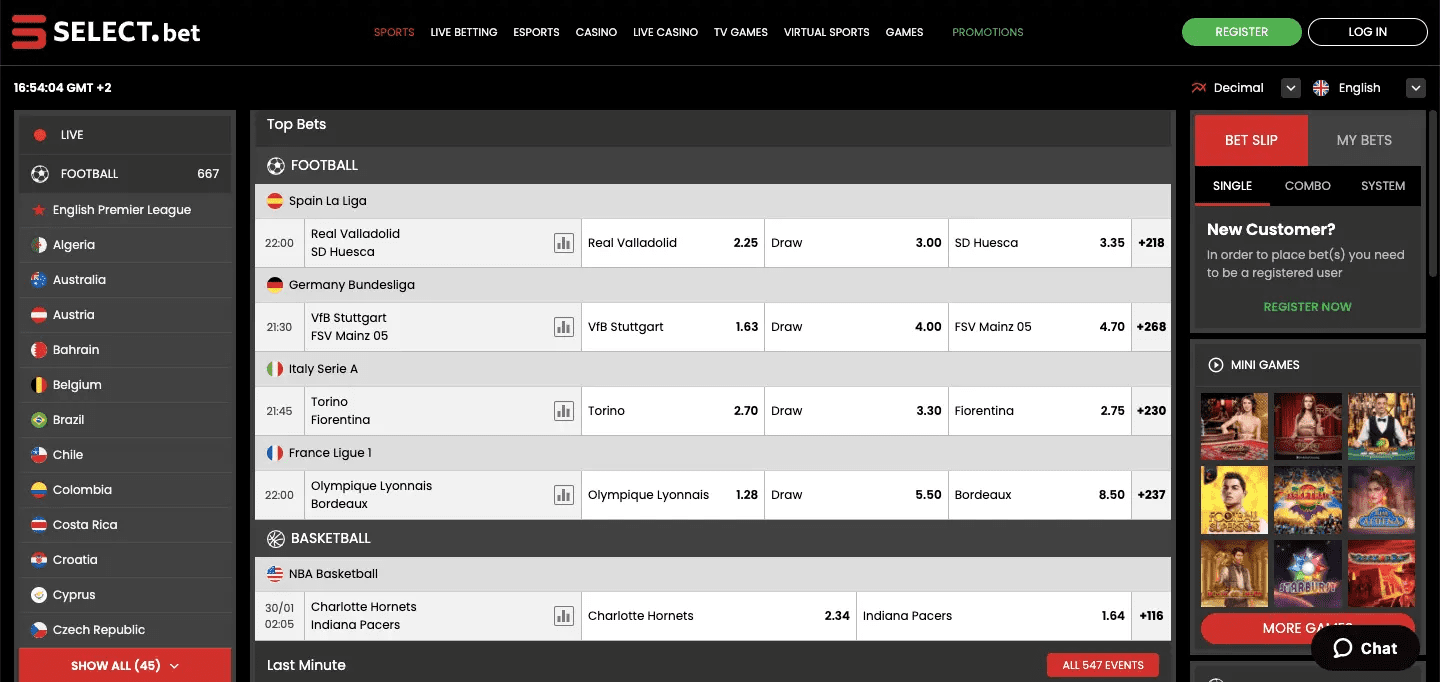 The only way that Select.bet Nigeria can survive in today's competitive sportsbook market is if they choose to offer a wide array of betting markets and betting types. Luckily enough, that's what Select.bet Nigeria has done and continues to do to attract more customers. Select.bet Nigeria is home to plenty of sports markets and many betting options.
First, Select.bet Nigeria ensures that it offers some of the most popular sports across the globe. Some of them include football –both local and international-, basketball, baseball, ice hockey, futsal, boxing, golf, and cricket. Others include athletics, badminton, handball, motorsports, rugby, swimming, water polo, and tennis.
Besides the sheer number of sporting events that Select.bet Nigeria offers its customers, this operator has made sure to provide them with several betting options. Betting options depend on the type of sporting event.
As a soccer fan, you should be able to wager on several betting options such as both teams to score, over/under, handicap lines, total number of goals, corners, yellow cards, and player to score, among others.
Select.bet Nigeria hopes to continue attracting new players from all over Nigeria by offering them irresistible odds. Even though this bookie has less than three years in the industry, it offers its customers some of the highest odds, rivaling several established big boys in the industry.
Do you fancy the thrill and excitement that comes with live betting? Today, in-game or live betting is one of the most popular ways of betting on sporting events. If this is something that interests you, rest assured of finding it at Select.bet Nigeria.
Unfortunately, by the time of compiling this review, we established that this operator lacks both live-streaming services and the cash out option. If they intend to remain relevant across Nigeria's competitive online betting landscape, then they should consider such additions.
Visit Select.bet
Bonuses & promotions
One major way that Select.bet Nigeria employs to attract new customers to its sportsbook is through their impressive Welcome Bonus that's available for new players. The moment you open your sports betting account here, you immediately qualify for a 100% bonus on your first deposit. The minimum deposit needed for a player to qualify for the Welcome bonus is 7,900 Naira.
The truly impressive part regarding the welcome bonus is that they will match your deposit up to 79,000 Naira. It means that if you deposit 79,000 Naira as your initial deposit by opening a new account, Select.bet Nigeria will immediately match it and award you with a 79,000 Naira as bonus.
The Welcome Bonus isn't the only promotional offer available here. In case you've already taken advantage of the first welcome bonus, you'll be surprised to find that there's a Second Deposit match bonus at Select.bet Nigeria.
This bonus works the same as the initial welcome bonus. The only difference is that this time, the bookie will match your deposit by 50%. It means that you have to deposit 158,000 Naira to take advantage of the full 79,000 Naira bonus.
Select.bet also offers its Nigerian customers several other promotions throughout the year. However, a majority of them tend to be short-term, often lasting a few weeks or less than a month. The Welcome Bonus and the Second Deposit bonus appear to be the only long-term promotional offers available here.
We dug deeper in a bid to establish whether Select.bet has a loyalty program for its loyal customers. However, we established that this operator currently lacks a loyalty program for its loyal Nigerian bettors.
Visit Select.bet
Mobile gaming
At Select.bet Nigeria, you have the opportunity of wagering on different sports wherever you are, and whenever you feel like doing so. This operator isn't just one of those bookies that players can only access from their desktops or personal computers. They've done an amazing job at developing their software, making it accessible from mobile devices.
Nigerian online sports bettors have two options for mobile betting with Select.bet. First, they can bet using the mobile version of Select.bet website. Using this option, all that's required is to simply navigate to the Select.bet URL and open a mobile browser of your choice on your device.
The moment you get to their site –which happens to load faster-, a software platform automatically recognizes the device that a player uses and adjusts the visual experience based on the device.
Betting via the mobile site is ideal for Nigerian bettors who prefer simplicity. There's no need of downloading any software. A player will be navigating the Select.bet website in the same manner to how they would if they were on a laptop or desktop.
If you prefer wagering via a mobile app, then you should also count yourself lucky. Select.bet has a native mobile app that players can download and install on their mobile devices. If you are an owner of an Apple device, you'll get the app at the Apple App Store. If you have a device such as Samsung that runs on Android OS, you can access the app from Google Play store.
The good thing about Select.bet's native mobile app is that it's highly responsive. Unlike other apps that may hang or demand regular updates, such isn't the case with Select.bet's native mobile betting app.
Payment Options
Another nice feature that accompany this operator is the banking options that they provide. Select.bet provides plenty of payment options, including traditional payment methods in Nigeria. In total, this bookmaker has 13 different methods of deposit and 7 methods of withdrawals.
Some of the available deposit methods include Neteller, Skrill, PaySafeCard, Visa, ecoPayz, Mastercard, Bitcoin, and Trustly. Others include Skrill 1-Tap, Ethereum, Jeton, Rapid Transfer, and Bitcoin Cash.
All the available deposit methods at Select.bet Nigeria are free of charge. There's a 4,600 Nigerian Naira minimum deposit for all methods, except for rapid transfer, which has a minimum deposit of 23,000 Nigerian Naira. Mastercard and Visa do have some of the lowest maximum deposit amount that stand at 46,000 Nigerian Naira.
Jeton, Rapid Transfer, Bitcoin Cash, Ethereium all have a maximum deposit amount of 4,600,000 Nigerian Naira. Neteller, Skrill, ecoPayz, PaySafeCard, Skrill 1-Tap, and Trustly all have a maximum deposit amount of 6,900,000 Nigerian Naira.
Withdrawals are available via Neteller, Skrill, Visa, ecoPayz, Jeton, Trustly, and Mastercard. Select.bet doesn't charge any fees at all, though a minimum withdrawal amount of 4,600 Nigerian Naira applies to all these methods.
All methods of withdrawal come with their typical withdrawal time of either one or two working days. Select.bet also support different number of currencies, making it easier for many sports bettors across the globe –including those from Nigeria- to play at their site.
Customer support
Select.bet runs one of the best customer service department that consists of professionals ready to assist customers who may need some sort of assistance or information. All the available contact options are available 24 hours a day, 7 days a week. Should you wish to reach the support department here, you can do so via email, Live Chat or telephone services.
Live Chat is the most popular, and arguably the fastest means of reaching the support department. All you need to do it to click on the Live Chat icon to get a connection to a real agent. Their agents are highly informed with the ability to resolve all your problems right away.
If you have long questions that require detailed responses, then you may have to reach the support department via email or telephone. With emails, though, the responses won't be immediate, but won't last more than 24 hours. Phone calls are also ideal, though at times, you may experience a jammed network.
Before resorting to the above contact options, you may want to go through Select.bet FAQ section. Who knows? You may find questions and their answers on what you've been looking for. This way, you'll be able to save a lot of time composing those emails, engaging them via Live Chat or calling the support department via telephone.
Safety and reliability
Select.bet has in place several security measures aimed at securing their website from hackers or any other individuals with ill intentions. This operator upholds tough privacy measures aimed at protecting customers' personal information. This bookmaker doesn't share customers' names, address, phone numbers, and banking information with third parties.
Customers' confidential information is of importance at Select.bet. All Nigerian bettors with accounts here can play freely without the worry of their personal and financial information finding its way to unauthorized persons. This bookie undertakes verification process upon account registration. You may have to submit copies of your ID, bank statement, driving license, and residential address.
Select.bet does all the above to ensure that it curbs cases of money laundering or minors and any other underage person from partaking in gambling. Select.bet is a licensed bookie, and you shouldn't have any worries at all when wagering at their site.
Verdict
Even though Select.bet isn't a well-established bookie, having entered the sports betting scene in 2019, nevertheless, it's rivaling some of the big boys in the industry.
They've surprised many with their plethora of games and banking options. They have some of the best odds around and several contact options to reach their support department. Are you on the hunt for an all-round sportsbook experience? If so, try Select.bet. It's one of the best online betting sites around.
Screenshots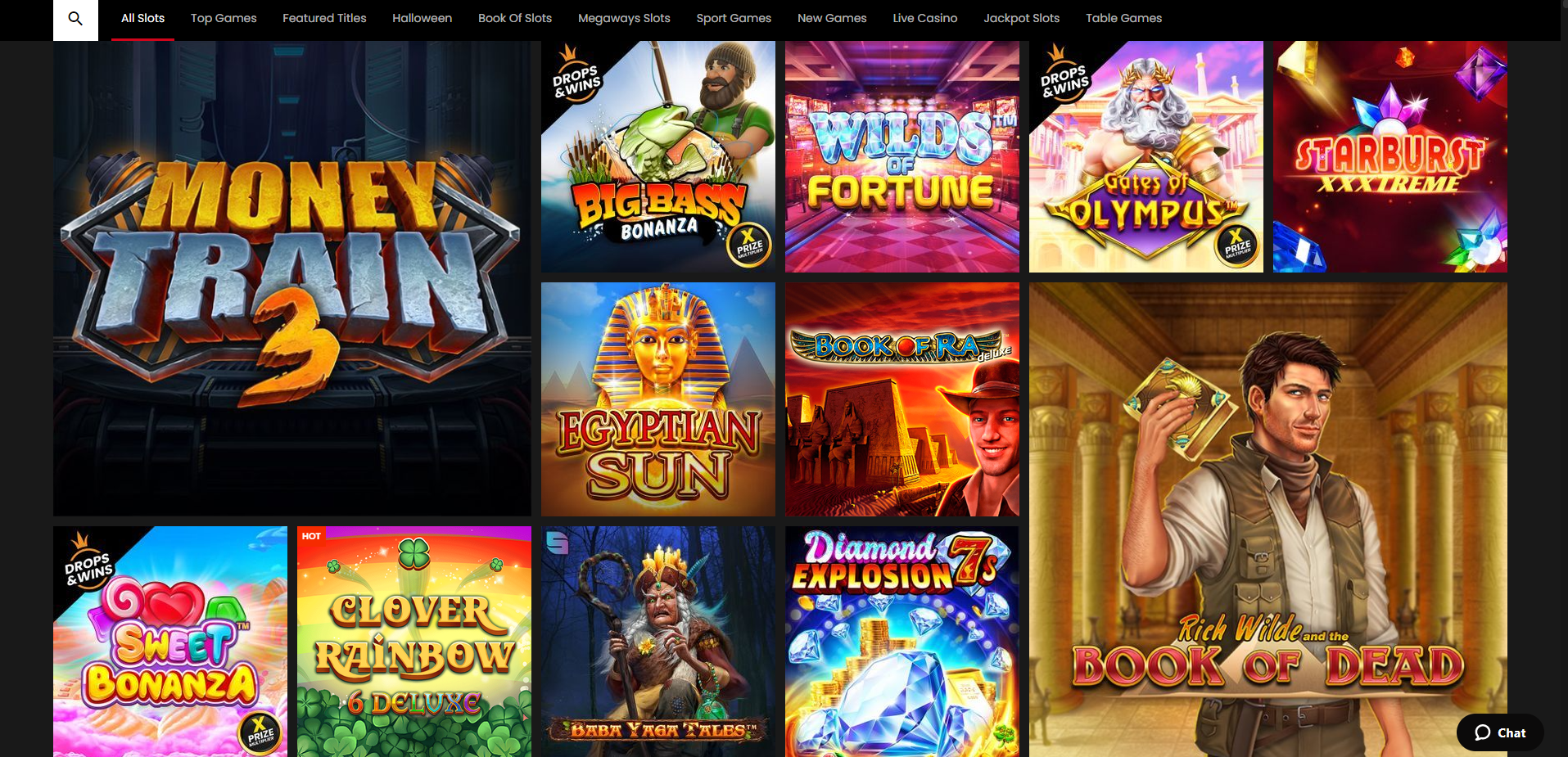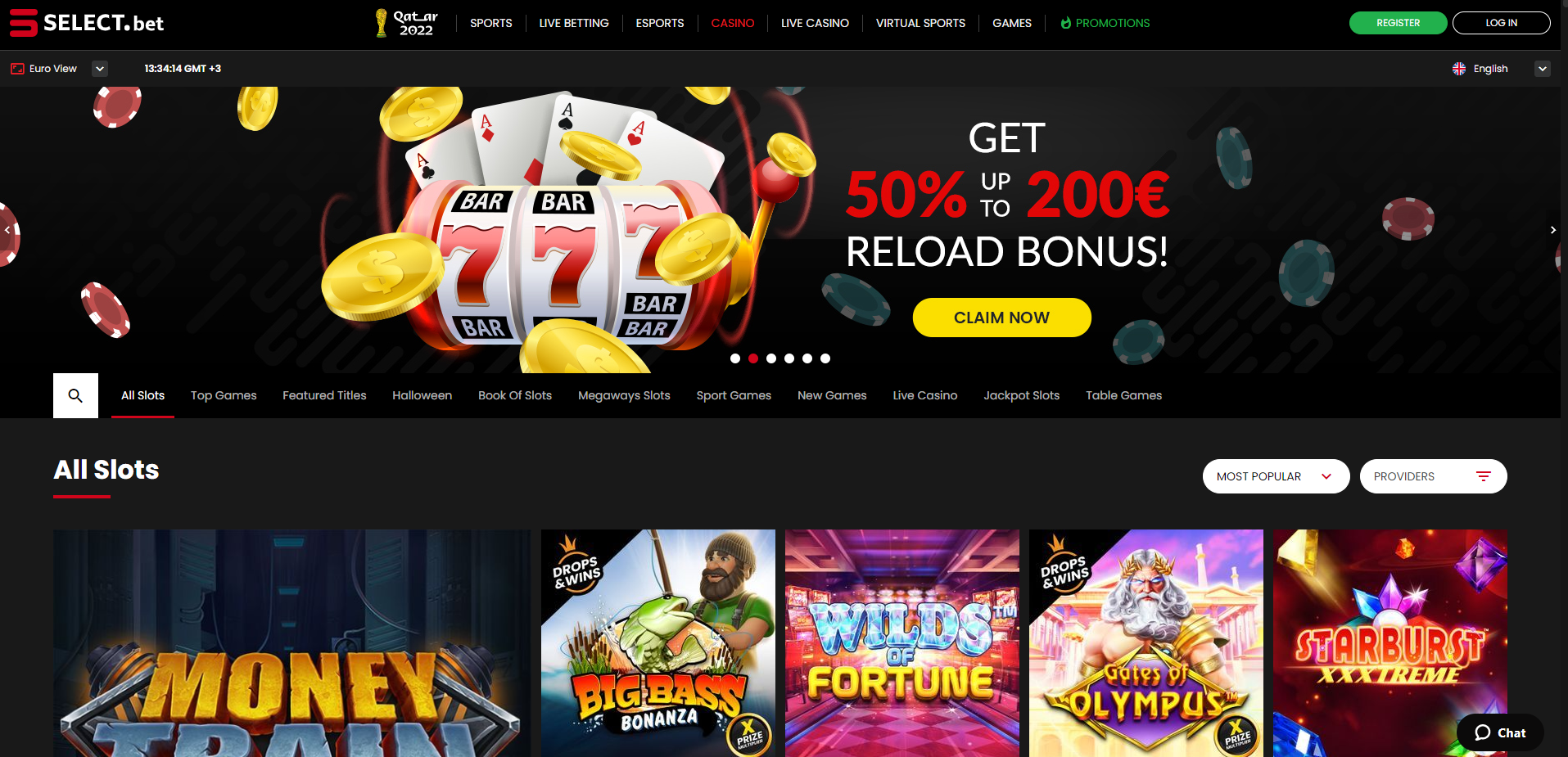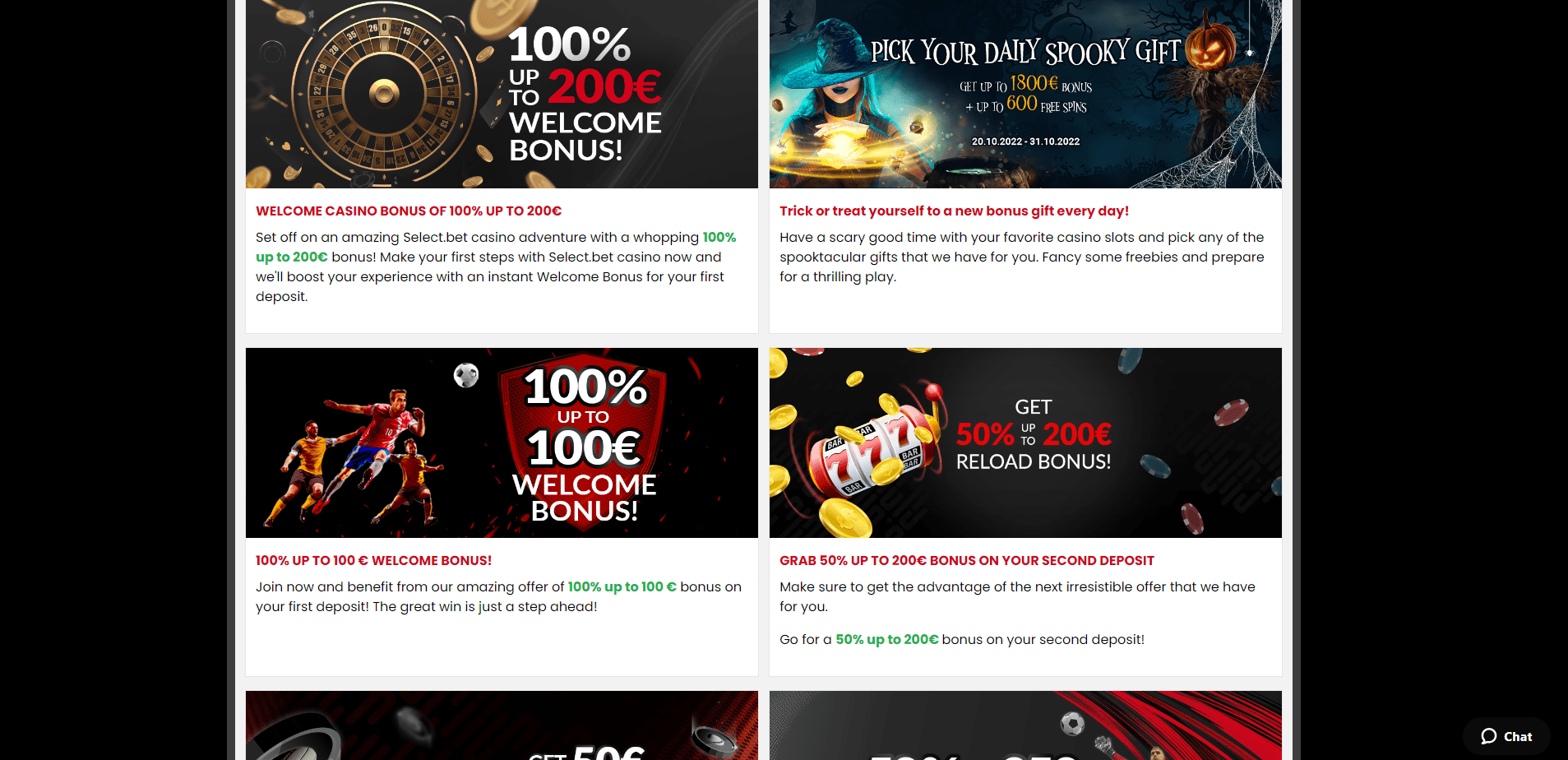 FAQ
Yes. Select.bet is a bookie with a commitment to ensuring that it maintains the privacy of their customers. At no time does this bookie attempt to share your information with third parties.
Absolutely! Just log in to your account and click on your username. You'll be able to see the 'Change Password' tab. Click on it and go ahead to change your password.
It's simple. Just click on the 'Forgotten User Password' tab. Thereafter, key in your e-mail address and a username. When done, click on the 'Reset Password' icon to set a new password.
Select.bet does its best to settle bets as soon as possible. But to be on the safe side, you may have to deposit via e-wallets. This way, you'll receive your winnings within the shortest time possible.
Yes, you can. If you feel that your betting activities are getting out of hand, then you can self-exclude yourself for a while. All you need to do is to reach the support department for assistance on such.
Todays Offer


0/5
Welcome Offer
100% Welcome Bonus Up To 100€
Select.bet Highlights
No highlights are registered
Short Summary
Select.bet Nigeria Sportsbook Overview Launched two years ago in 2019, Select.bet is one of the newest online bookies from Bellona N.V. Gaming Group, a firm based in Curacao. Besides being a new addition across the online sports betting industry, this bookmaker is working extra hard with an attempt of breaking into what's becoming a very...


100% Welcome Bonus Up To 100€
Visit Website