Marathonbet Nigeria Review
Marathonbet Nigeria
100% up to ₦15.000
18+ Players From Nigeria Accepted on This Website.
Marathonbet Nigeria Review 2023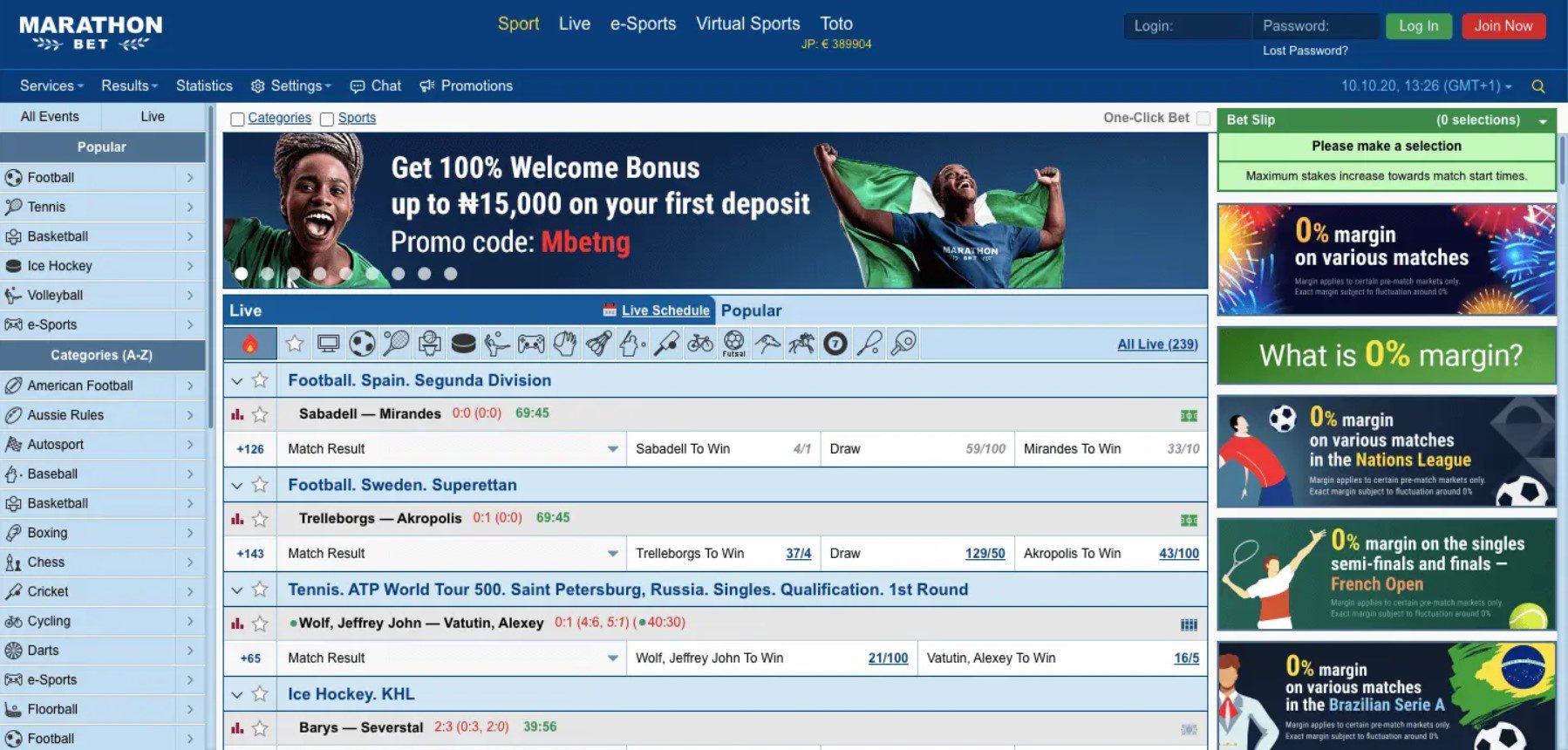 Nigeria passion for football is unmatched in the continent and no other nation has successfully managed to produce stars such as Nigeria's Jay Jay Okocha, Obie Mikel and Odion Ighalo.
In equal proportion, no online betting site brings Nigeria's passion for online betting than Maranthonbet. And why is it so? Read on, to find out why our online betting experts back this betting site.
Establishment in 1997 in Russia, Marathonbet has proved that contrary to naysayers, they are here to stay. Over the years, they have managed to gain a lot of the desired credibility among bettors, not only in the UK but also across other European region and beyond, Nigeria being one of them.
Since going into business, Marathonbet has managed to expand its menu of gaming services on offer. Marathonbet Nigeria customers stand to enjoy high odds, pre-match and in-play staking, free bets for existing customers, regular promos and bonuses, and amazing payouts.
Operating internationally, Marathonbet has six licenses, one of them having been issued by the Nigerian government. Even though Marathonbet is currently based in England and owned by Panbet Curacao, they also accept Nigerian players. They hold a license that was issued by Edo State Government in Nigeria, meaning that they've been tested to prove their fairness and integrity.
Last year in 2019, Marathonbet was awarded and recognized as "The most reliable sportsbook." Marathonbet cuts across those bookies with an outstanding customer care department, a wide array of payment options, attractive bonuses and promotions, and a mobile-friendly betting app.
A lot of players, especially those based in Nigeria, find Marathonbet to be their "go to" betting site due to an easy registration process that only takes a few minutes. All that a player has to do is to log in to Marathonbet's website. Next is to click on the 'Join Now' icon located at the bottom of the screen.
Thereafter, a player needs to fill the registration form and finally make a deposit and start playing. In this Marathonbet Nigeria review, you'll get to know a lot about this sportsbook and whether they are worth your time and money.
Visit Marathonbet
Quality of the platform and website usability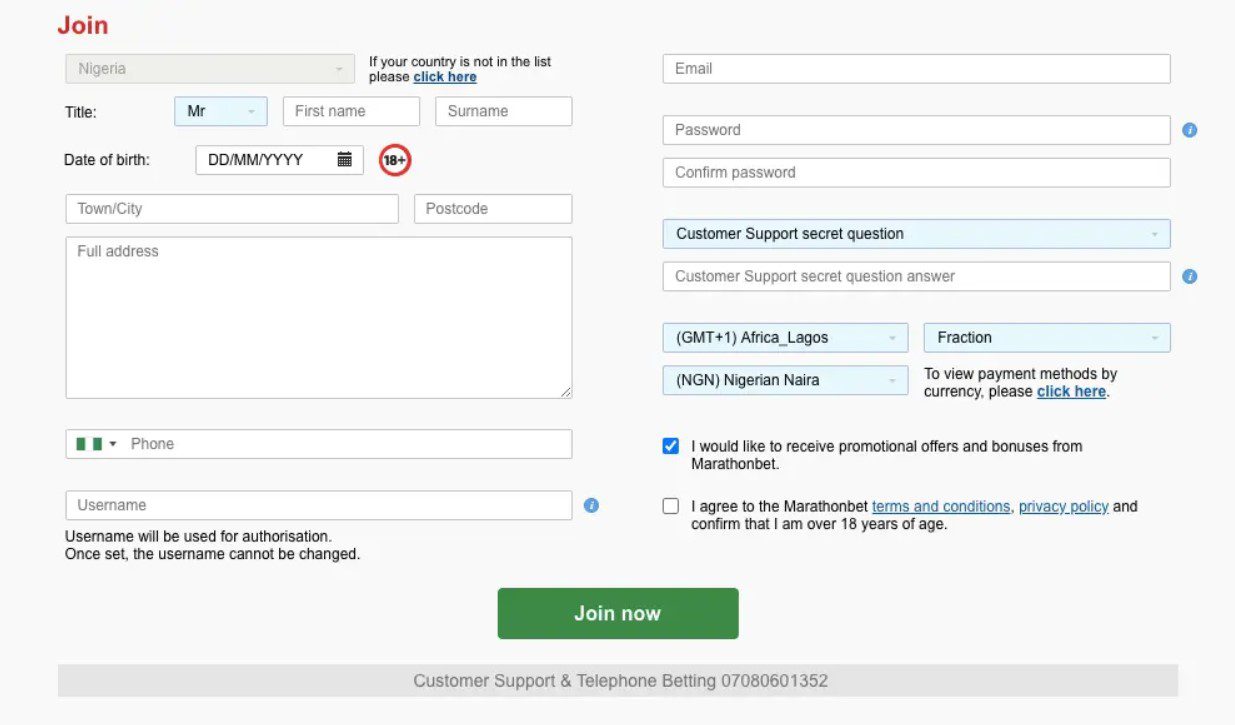 Marathonbet Nigeria's website is highly user-friendly, one of the reasons as to why this bookie has managed to amass a wide pool of Nigerian players. Based on our analysis, we noticed nothing particularly flashy regarding the website. Its website spots a simple blue and white color scheme.
You are immediately thrown straight to the bookie the moment you get to land there. Besides the right-hand column where you'll find the promotions listed, there's nothing that will distract you away from placing your bets.
There's also a mobile version of Marathonbet's website, and as a player, you'll get the same services and basic layout right there.
Under the settings link, it's possible for a player to easily choose between six different odds layouts. Other extra additional features include the ability to alter odds notifications, a dedicated "Responsible Gambling" and "Results and Statistics" sections.
In short, Marathonbet Nigeria's website is simple but pleasing in design. We found good touches in terms of the quality of its betting platform and website usability.
Visit Marathonbet
Games available and betting options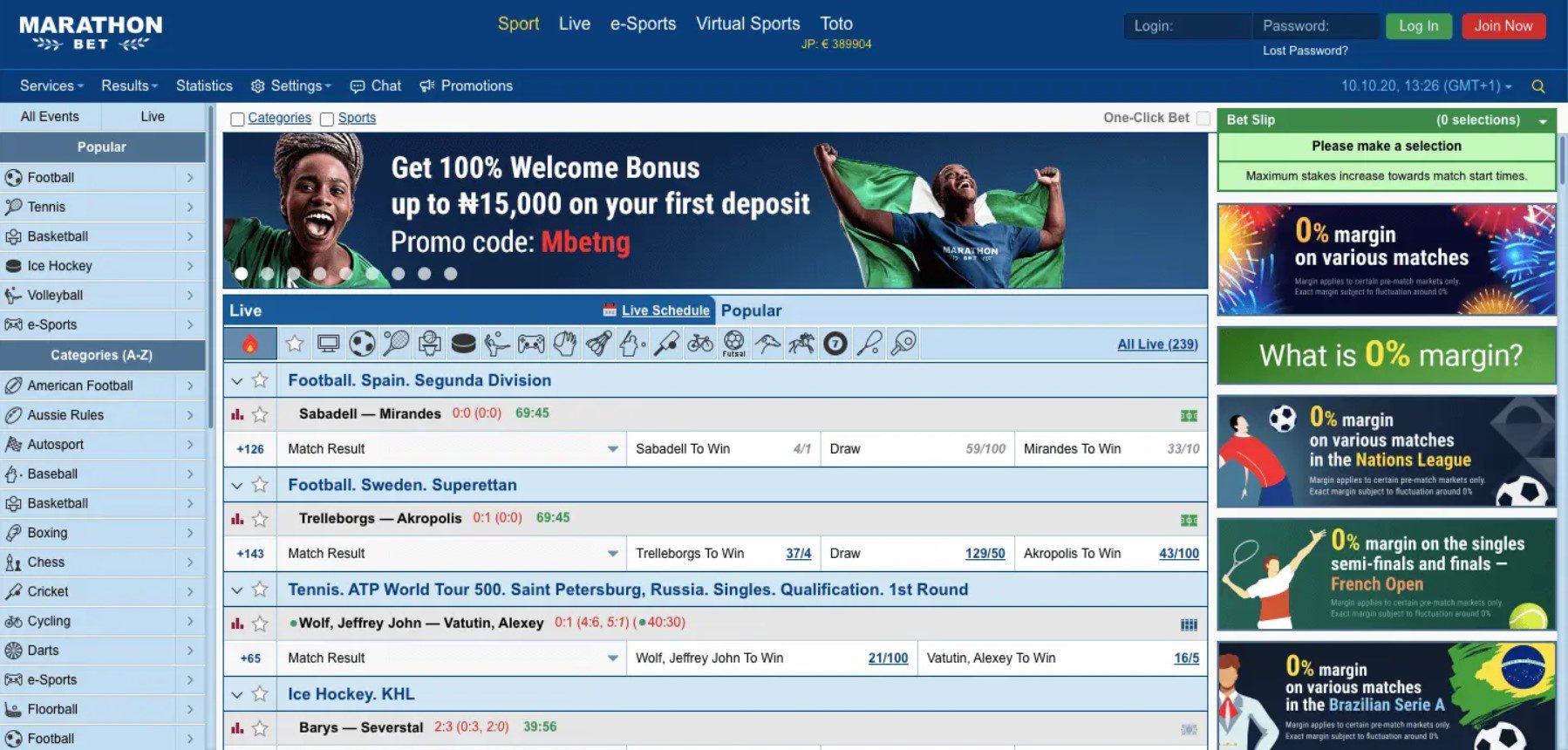 Marathonbet Nigeria boasts an amazing selection of sports betting markets across the board. They offer events from almost every part of the globe, along with minor and major tournaments alike. In total, this bookie covers 33 sporting events in more than 60 countries across the globe. Some of the games available here include:
Football
Cycling
Darts
Rugby
Basketball
Motorsports
Water polo
Cricket
As mentioned earlier, a majority of Nigerian players find Marathonbet to be their number one "go to" sports betting site. While there are plenty of reasons for this, very strong odds on offer is one of them.
Marathonbet Nigeria does fairly well when it comes to its odds. They are highly attractive, especially to new players.
Bettors looking for additional betting options will feel satisfied with Marathonbet Nigeria. Unlike other bookies, its betting options aren't limited.
While the betting option depends on the league chosen, mostly, players bet on corners, double chance, number of goals scored, and both teams to score, to mention but a few.
At Marathonbet Nigeria, players who prefer placing live bets (preferably due to their high odds) can do so with a lot of ease. This bookie has a calendar on their website that consist of all live-betting sports events. Besides live betting, there's also the option of live streaming.
Nigerian players can live stream sporting events such as Football, Table Tennis, and Basketball, among other options. Of importance to note that a player requires a positive account balance to stream live.
If there's an area that Marathonbet Nigeria needs to improve on, then it has to be a matter to do with cash-outs. At the moment, players cannot cash-out part of their winnings, especially if they feel that their bet(s) won't sail through.
Visit Marathonbet
Bonuses & promotions

Bonuses and promotions are part and parcel of online sports betting, and players are presented with a wide array of such bonuses and promotions to choose from. Marathonbet Nigeria offers a welcome bonus of up to 12,000 Nigerian Naira to its new customers.
That being said, Marathonbet Nigeria does, however, have other wonderful promotions to offer its customers. While this sportsbook doesn't offer VIP programs per se, it does offer its players outstanding Loyalty Programs. Bets placed on different sports markets lead to point generation.
To qualify for such points, a player must wager on a sports market, with stakes of at least 5,000 Nigerian Naira that are backed by minimum odds of 3/10.
Other types of bonuses and promotions that this bookie offers its Nigerian players include Free Bet, the Double Result Promo, and the Lucky 15, 31, and 63 Promo.
Free Bet allows players to bet for free or place what's known as wager/bet 'on the house.' The Double Result Promo is only eligible in horse race betting. For a player to be eligible for this type of promotion, s/he must make an initial deposit of up to 100,000 Nigerian Naira.
The 'Lucky' promo applies in horse and greyhound racing only. Here, the bookie will pay double the odds for every single 'Lucky' winner in greyhound or horse racing. Of importance to note is that non-runners aren't eligible for this 'Lucky' promo and that different 'Lucky' bets have several additional bonuses.
Visit Marathonbet
Mobile gaming
With mobile betting on the rise, sportsbooks have no option but to ensure that they have a downloadable mobile app for their customers to use to place bets while on the move. Unlike before where one had to find access to a brick-and-mortar site to place sports bets, with advanced technology, such is not the case today.
Marathonbet has a mobile betting app that players, even those in Nigeria, can use to place their bets. The Marathonbet mobile betting app is user-friendly and designed with a very clear and simple layout.
Still, it's compatible with iOS and Android devices, to ensure that you take all your betting needs as you move.
The Marathonbet app is quite easy to navigate, even if you are a new player. It's very clear to slide through the sportsbook menu and the available markets.
With this app, rest assured of fast and easy sports betting right at your fingertips. The app loads faster, meaning that you won't lose a lot of time searching and placing bets.
Again, it's worth mentioning that if you don't wish to use the Marathonbet app, then there's another option available for you. In Nigeria, for instance, Nigerian players can bet on the Marathonbet Nigeria website.
The website is compatible with Opera, Safari, Yandex, and Chrome mobile browsers. As you can see, there are plenty of options for those willing to get full access to Marathonbet Nigeria's services.
Payment Options
The moment you are done with the registration process with Marathonbet Nigeria, you'll need to make deposits so that you can begin betting. Luckily enough, there are several payment methods that Marathonbet Nigeria.
Of importance to note, though, is that there are other banking systems (such as Skrill and PayPal) that Marathonbet Nigeria doesn't accept.
If you are solely based in Nigeria and looking to fund your account using Moneta, Skrill, PayPal, Maestro, Paysafe, and Entropay, then you'll be disadvantaged since such banking options aren't eligible for Nigerian players.
They are eligible for players, especially those in the United Kingdom and other European countries, where Marathonbet holds a license to operate.
But all is not lost for Nigerian players willing to fund their accounts and enjoy placing bets on their favorite players and teams. Some of the available funding options that you can use include the following:
Bank Transfer
Neteller
Visa MasterCard
ecoPayz
Bitcoin
WebMoney
Of all the above payment options, wire transfers appear to be the least favorite option among Nigerian players. The reason why a lot of players don't prefer this mode of payment is based on the fact that it takes slightly longer to settle.
But on the other hand, it's worth remembering that this mode of payment allows for high limits, a reason as to why it's ideal for high rollers.
The remaining banking options (WebMoney, Bitcoin, ecoPayz, Visa MasterCard, Neteller) are fast, often lasting a few minutes to a period of not more than 24 hours except VISA MasterCard that may take up to 5 days to settle.
Something ideal about all the above payment options is that there are no transaction fees involved. It's worth noting that payments and deposits at Marathonbet Nigeria can only be achieved using the local currency (Nigerian Naira).
Customer support
Marathonbet Nigeria's customer support department does pretty well in what they do. They have a team of customer care representatives that are available 24/7.
They can be reached via Live Chat, phone, and email, depending on a method that better suits a player. If you prefer the Live Chat option, then you can find the icon on the left-hand side of the menu bar.
Nigerian players who prefer immediate responses or don't have access to smartphones and PCs to type in their queries can still contact Marathonbet Nigeria's customer care staff. They can do so by contacting them by phone (07080601352).
Furthermore, those who prefer the email option can contact Marathonbet Nigeria support staff via the company's email address, which is [email protected].
Something ideal that stands out about Marathonbet customer care assistants is that they are highly informed, polite, and professional when responding to client queries.
With more than 520 languages in Nigeria, Marathonbet Nigeria primarily chooses to communicate using the English language since it's popular across a majority of sports bettors in the country.
Safety and reliability
It's somewhat risky playing online. The reason is simple; you'll be giving your personal and banking details to another party, hoping that they don't share it with third parties or any other unauthorized persons. But while playing at Marathonbet Nigeria, rest assured of some peace of mind when it comes to your personal and financial information.
Marathonbet Nigeria is a secure site that highly prioritizes the safety of its customers' personal and financial information. Based on several reports on matters to do with safety and reliability, the results have been yielded positive results. There haven't been any complaints so far regarding privacy and data protection issues.
Player information is secure at Marathonbet Nigeria. The bookie uses 256-bit SSL encryption as a means of securing information passed during a player's session.
You'll notice that you are using a secure connection with the browser using an 'https' address as opposed to 'http.' Despite being licensed to operate in Nigeria, Marathonbet undertakes a KYC (Know Your Customer) process during registration.
With KYC, a player willing to open sports betting account with Marathonbet Nigeria must submit important details such as the date of birth, address, and banking details, to mention but a few. All this is to ensure the avoidance of underage betting and money laundering.
Verdict
Marathonbet Nigeria is one of the best and most reliable bookies in Nigeria, without a doubt.
They provide their customers with active markets, excellent features, and highly competitive odds. While this sportsbook lacks a welcome offer, nevertheless, they cover this by providing an easy and secure registration process, a user-friendly website, and fast payouts.
They also accept several convenient payment options and live-streaming services. Overall, Marathonbet Nigeria is an outstanding bookie despite a few flaws. Marathon Nigeria is a bookie worth a player's time and attention.
They are experienced, trustworthy, and highly reliable. While there are few issues that need fixing, Marathonbet Nigeria does quite well so far.
Screenshots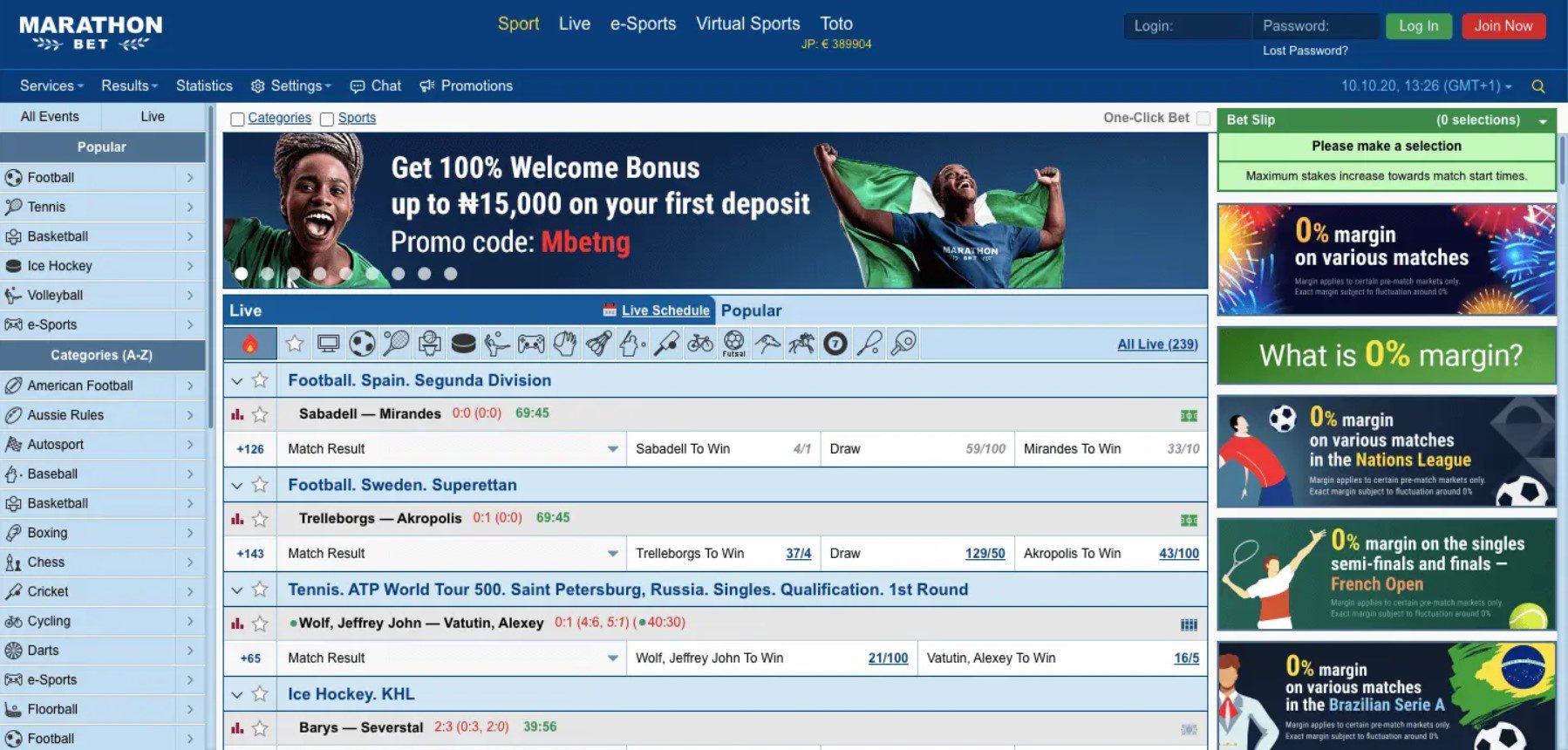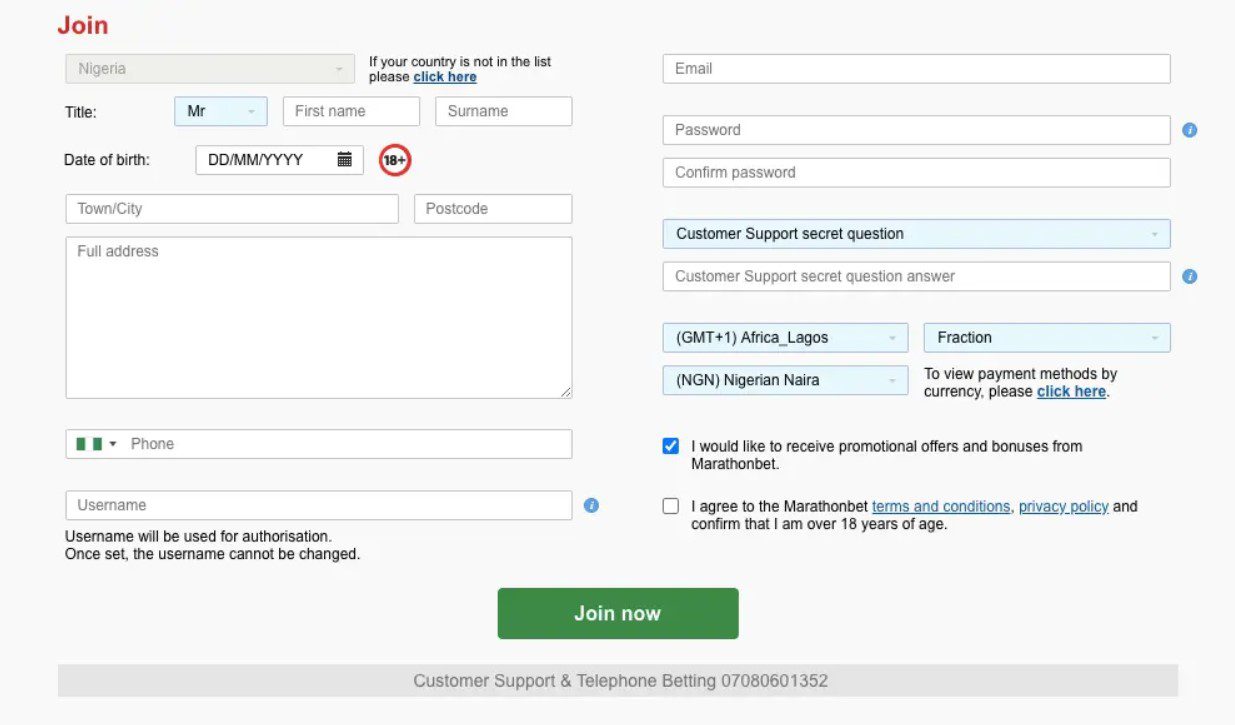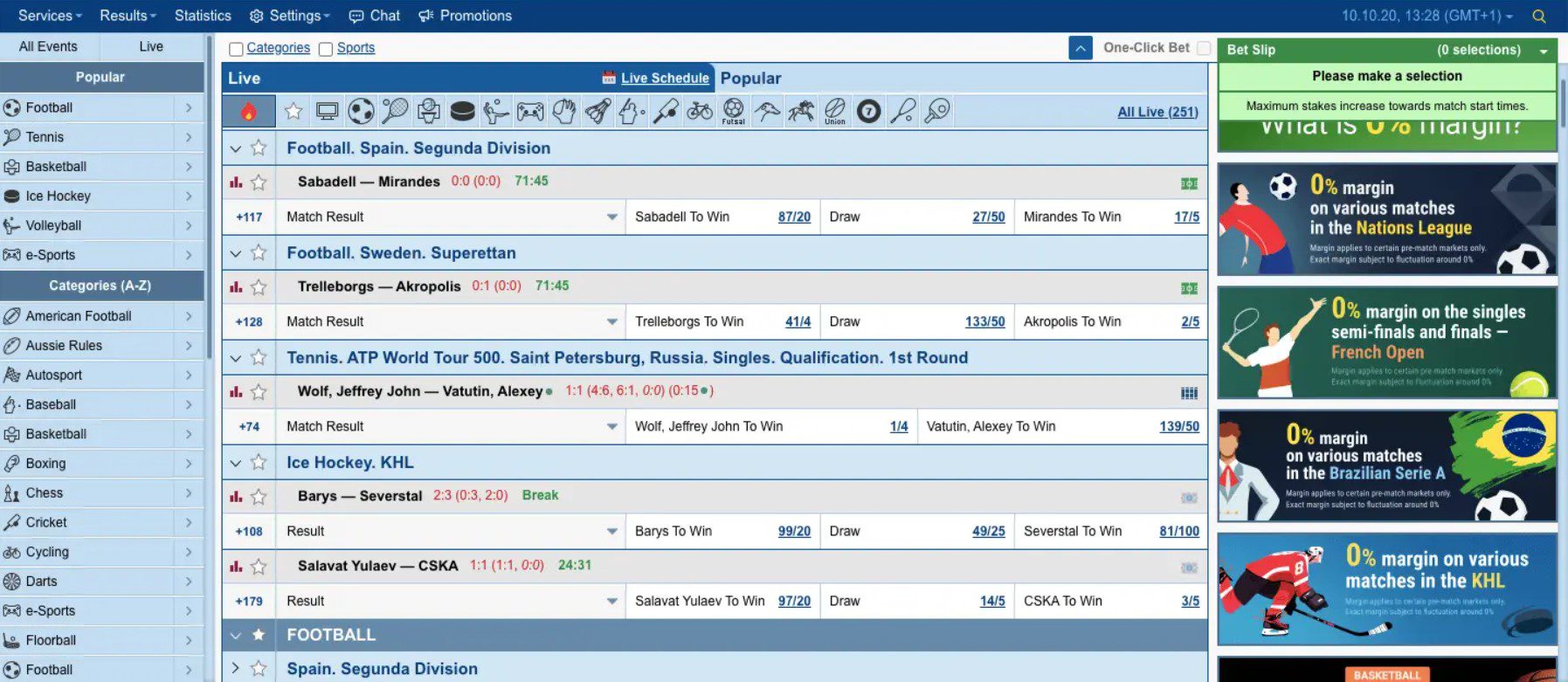 FAQ
The following are some of the most frequently asked questions regarding Marathonbet Nigeria.
FAQ
Based on the right reasons that separate an outstanding sportsbook from subpar betting sites: High odds, a wide range of sports betting markets/options, live betting, and a user-friendly website.
Marathonbet Nigeria gives its customers a chance to fund their accounts via several safe and convenient methods such as Bank Transfers, Neteller, Visa MasterCard, ecoPayz, Bitcoin, and Webmoney.
If you use popular e-wallet options, then expect your payments fairly soon, usually instant or in less than 24 hours. The time taken depends on the method of deposit that you used.
Absolutely! You can find mobile betting at Marathonbet Nigeria. There's a downloadable mobile app that players can use to place their bets. It loads faster with features that resemble the main site.
Yes. Marathonbet Nigeria values player personal and financial information. This bookie employs 256-bit SSL encryption to ensure that player information isn't subject to being hacked or shared with third parties.
Yes, you can. Marathonbet customer care department is available 24/7, meaning that you can always chat, talk, or email them. Expect timely and professional responses from them at all times.
Live betting is available at Marathonbet Nigeria. Here, you stand a chance of placing bets when the events are underway.
Todays Offer


4.3/5
Welcome Offer
100% up to ₦15.000
18+ Players From Nigeria Accepted on This Website.
Marathonbet Nigeria Highlights
No highlights are registered
Short Summary
Marathonbet Nigeria Review 2023 Nigeria passion for football is unmatched in the continent and no other nation has successfully managed to produce stars such as Nigeria's Jay Jay Okocha, Obie Mikel and Odion Ighalo. In equal proportion, no online betting site brings Nigeria's passion for online betting than Maranthonbet. And why is it so? Read...


Visit Website