AfriPlay Nigeria Review
AfriPlay Nigeria
100% up to ₦100.000
18+ Players From Nigeria Accepted on This Website.
Detailed AfriPlay Review
AfriPlay, formerly known as LionsBet, is recognized as one of the most prominent bookmakers in Nigeria. It is a relatively recent addition to the gambling industry, having launched in 2016. AfriPlay has its headquarters on Victoria Island and a complete gambling license and regulation from the Lagos State Lotteries Board. 
The bookmaker has gained a lot of attention for the extensive selection of football betting options it gives punters. AfriPlay not only provides its services across several platforms (desktop and mobile devices) but also offers a plethora of bonuses (except an AfriPlay welcome bonus).
In our comprehensive AfriPlay Bookmaker Review, we'll cover all of this and more.
What is the AfriPlay Welcome Bonus?
Unfortunately, AfriPlay didn't  offer a AfriPlay welcome bonus at the time of writing. However, don't let that discourage you, as there are other AfriPlay promotions you can take advantage of.
AfriPlay Regular Promotions
While there isn't a AfriPlay welcome bonus, AfriPlay offers other promotions to make up for its absence. You'll find these under the "Promotions" tab at the top of the site. Just make sure you read the terms and conditions of the available AfriPlay promotions before you claim any of them.
Cut 1 Plus
AfriPlay has developed Cut1 Plus because the company feels that the Cut1 Bonus has gotten stale. Don't worry if you miss by a game or two, you'll still come out on top. 
You must wager on at least 10 picks, with each option involving at least 1.30 odds.  If your ticket is voided by a single game, you will be refunded three times your initial stake in cash. 
If you wager on at least 15 picks with odds of 1.30 or higher, you can win regardless of the outcome. If your ticket is canceled by a single game, you will get a cash deposit equal to 10 times your original wager.
If you make at least 20 wagers with odds of 1.30 or higher, you'll be able to cash in like a boss. If a single game cancels your ticket, you'll have 25 times your stake deposited into your account. If you make at least 15 picks and two of them don't come in, you'll get your bet money back.
Ogbonge Accumulator Bonus
AfriPlay knows that even the best accumulator punters have losing streaks. The AfriPlay accumulator bonus is intended to be fair and generous while also being attainable. As most accumulators don't begin until you've made five selections, AfriPlay pays a 3% bonus on only three.
Simply make a pre-match accumulator wager of three or more picks on any events with odds of 1.25 or higher. Betting on at least 12 games on a BetSlip will earn you a large 50% Afriplay Bonus that will be applied to your winnings.
Your potential for winning additional prizes increases as you add more options. The best part about this bonus is that you don't have to start looking for any AfriPlay promo codes. You can see the exact percentages they'll contribute to your winnings depending on the number of picks you make, from 3% for three all the way to 50% for 12 or more.
CashOut
There may not be an AfriPlay welcome bonus, but AfriPlay does provide a CashOut feature. CashOut is the option to withdraw winnings from an open wager before the conclusion of the event.
Its use in sports betting to either secure a profit or limit losses has grown in popularity in recent years.
For a number of betting markets, AfriPlay provides a CashOut option. Depending on how the game is going, you may be offered a cashout on your wager that is higher or lower than what you had staked.
In addition, you can use CashOut for any accumulator bets you place. For instance, if you bet on five teams and three of them have already won, you may decide to take AfriPlay's assured but reduced offer.
Next to the Bet Slip, you'll notice a list of your current bets and the CashOut option highlighted in green (if available). CashOut is only accessible for the markets where the icon appears next to the market name. You should never make a wager expecting to cash out, as this is not always possible for all games, markets, or periods.
Partial CashOut is also available, allowing you to keep a portion of your initial wager on the event while cashing out the rest. Note that when you use CashOut, you run the risk of opting out of other AfriPlay promotions.
How to Open Your AfriPlay Account
Thankfully, the registration process at AfriPlay is easy and straightforward. Here's a detailed guide on how to create an account at AfriPlay:
First, visit the official

AfriPlay

website

At the top right corner of your screen, you'll see the "Register" button; click it.

This will take you to a new page where you'll need to provide some personal details like your full name, email, date of birth, and phone number. 

You also need to create a username and password. Select your gender and provide any

AfriPlay promo codes

if you have one. 

Click on "Create Account."

You'll receive a confirmation link in your email. Confirm your account by clicking the link in the email.
If you wish to place bets, the next thing you'll have to do is deposit some cash into your account. After logging into your account, you'll see the "Deposit" option at the top right corner of the screen. Click on it, and you'll be redirected to the cashier page, where you can pick your preferred payment method. 
Sports And Betting Markets
AfriPlay's website provides access to more than 20 different sports to bet on. Furthermore, the platform broadcasts virtually all major and noteworthy athletic events and tournaments. Available betting markets include accumulator, prop, handicap, and many more.
You will find that the vast majority of the sports content on AfriPlay originates from other countries. This makes it perfect for individuals who want to wager on sporting events throughout the globe. Here are some of the most popular sports you can bet on at AfriPlay:
Football – When it comes to sports, football is right up there with basketball and volleyball in terms of popularity in Nigeria.

AfriPlay

hosts tournaments from all over the world. You get access to international leagues like Premier League, La Liga, Ligue 1, Serie A, and Bundesliga.

Basketball – AfriPlay has a thriving industry for wagering on basketball games. There are about 15 different leagues to choose from, including  NBA, EuroLeague, WNBA, etc.

Rugby – While limited, AfriPlay's selection of Rugby Leagues is respectable. The website features leagues such as the Mitre 10 Cup, Premiership Rugby, and Division 2.
AfriPlay Withdrawal Options And Processing Times
Once logged into your account, choose "Withdrawal".   Once you've decided on a method of payment, you may proceed to input your banking information and the total amount. Here are the available withdrawal methods:
| | | | | |
| --- | --- | --- | --- | --- |
| Payment Method | Processing Time | Min. | Max. | Fees |
| Monnify | Up to 10 minutes | 1,000 NGN | 50,000 NGN | None |
| Paystack | Up to 10 minutes | 1,000 NGN | 50,000 NGN | None |
| Interswitch | Up to 10 minutes | 1,000 NGN | 50,000 NGN | None |
| Opay | Up to 10 minutes | 1,000 NGN | 50,000 NGN | None |
AfriPlay Deposit Methods And Processing Times
AfriPlay accepts a wide variety of payment options, although it's missing the most popular ones. Although this may be the case, AfriPlay provides a secure and open platform for making deposits. It's also possible to make deposits via your bank or ATM.
| | | | | |
| --- | --- | --- | --- | --- |
| Payment Method | Processing Time | Min. | Max. | Fees |
| Monnify | Instant | 50 NGN | 1,000,000 NGN | Free |
| Paystack | Instant | 50 NGN | 1,000,000 NGN | Free |
| Interswitch | Instant | 50 NGN | 1,000,000 NGN | Free |
| Opay | Instant | 50 NGN | 1,000,000 NGN | Free |
AfriPlay Special Features
AfriPlay has succeeded in making online gaming accessible to everyone. The site is accessible and it's easy to find the information you want. 
AfriPlay Cash-Out
While it's great, AfriPlay Cash-out is limited to a select few events and matches.When this option is turned on, bets can be withdrawn before the completion of the event. There is also a partial cashout feature, where players may cash out part of their winnings and leave the rest to complete the bet. This feature may be inaccessible under specific circumstances, so be sure to check the offer area frequently to avoid missing out.
Live Stream Service
Unfortunately, AfriPlay doesn't offer a live stream service; however, the site does offer a live betting option. You get to bet on ongoing games and events.
AfriPlay Betting App
There are currently no mobile applications available for AfriPlay. On the other hand, Punters have unrestricted access to the mobile site and all the fun of wagering from their phones.
Thanks to the bookmaker's mobile site, you may place bets quickly and easily from your phone. While it doesn't do anything particularly groundbreaking, it does provide access to the most current and popular betting markets.
AfriPlay Customer Support
There is excellent service in the live chat, and players should find the agents helpful. 
There are several methods of contacting AfriPlay, including email and telephone. You'll also find the FAQ section, which may have answers to some of your questions.
AfriPlay Promo Code
As of this writing, there were no AfriPlay promo codes displayed on the website. However, AfriPlay provides a box to enter AfriPlay promo codes in the registration process which suggest they're available from time to time.
Pros and Cons of AfriPlay
AfriPlay has a wide variety of appealing products and services on its betting platform, which has attracted new punters. 
Thankfully, there are more pros than cons for AfriPlay. When researching AfriPlay, we came across the following: 
Pros
Live Chat

Cash-Out Option

Over 20 sports, including esports

Easy Registration

Licensed Platform
Cons
No Native App

No Streaming Service

Limited Payment Options
Should You Join AfriPlay?
When it comes to sports betting, AfriPlay has you covered with a wide variety of markets and an ever-expanding slate of in-play opportunities. AfriPlay also excels in other areas, like customer service and promotions. Its desktop and mobile websites are user-friendly, practical, and aesthetically pleasing.
Keep in mind that the site currently does not offer an AfriPlay welcome bonus. Nonetheless, AfriPlay makes up for it by introducing several exciting AfriPlay promotions like CashOut. Overall, AfriPlay is an amazing bookmaker to bet at.
Screenshots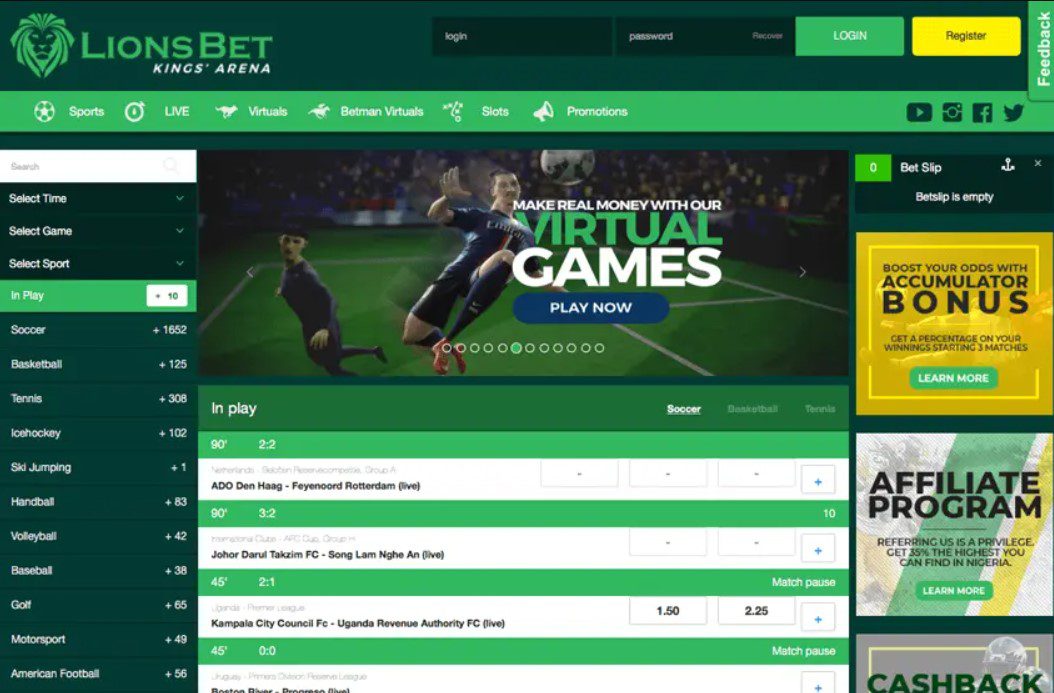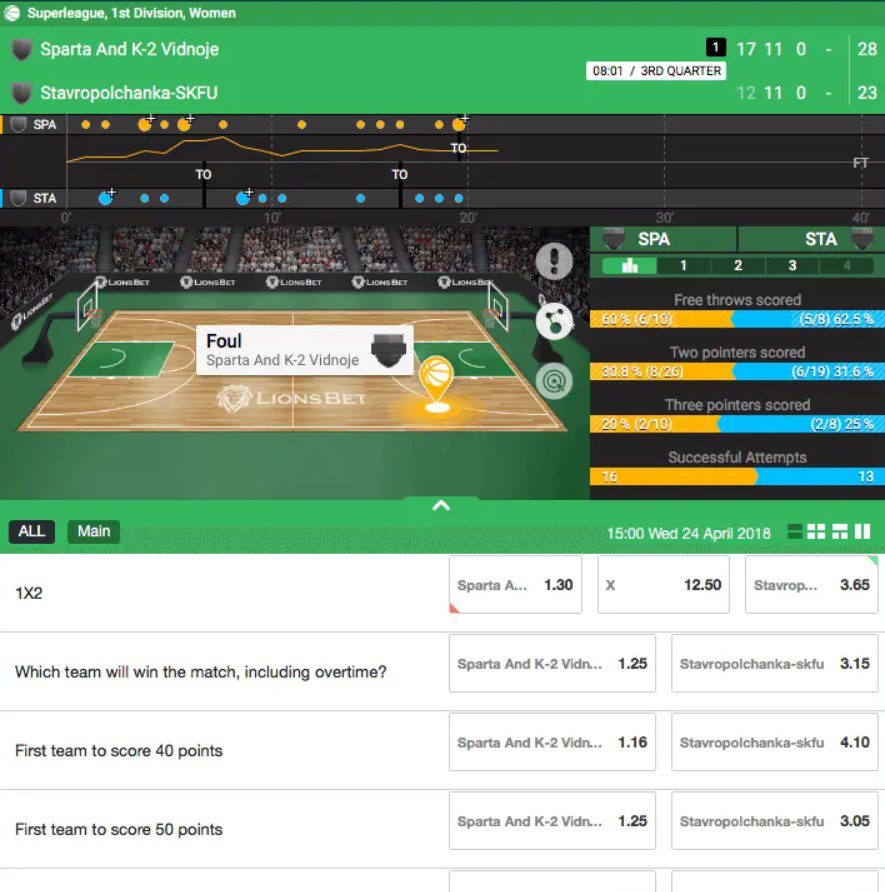 What People Typically Ask About AfriPlay
FAQ
Before you can bet on AfriPlay, you'll need to create an account and fill out some basic information fields. You can register for an account by clicking the red "Register" button in the site's top right corner.
To add funds to your account, log in and click the "Deposit" button. Choose the appropriate payment method. Afterwards, you may proceed to enter the deposit amount and submit the transaction.
To initiate a withdrawal, log in to your account and choose the balance icon. Choose "Withdrawal" and click on your preferred method of payment. Enter the withdrawal amount and click "Withdrawal".
If you want to become a verified AfriPlay customer, you'll need to provide identification papers, such as an ID. All you need to do is head over to the verification page of your account.
AfriPlay operates under the supervision of the Lagos State Lotteries Board, which is the governing body for the gaming industry in Lagos. The AfriPlay headquarters may be found on Victoria Island in Lagos. It is a legitimate and trustworthy bookmaker.
When it comes to protecting your privacy and preventing hackers from gaining access to your cash, AfriPlay checks all the necessary boxes. It uses encryption to protect its players' personal information.
Todays Offer


0/5
Welcome Offer
100% up to ₦100.000
18+ Players From Nigeria Accepted on This Website.
AfriPlay Nigeria Highlights
No highlights are registered
Short Summary
Detailed AfriPlay Review AfriPlay, formerly known as LionsBet, is recognized as one of the most prominent bookmakers in Nigeria. It is a relatively recent addition to the gambling industry, having launched in 2016. AfriPlay has its headquarters on Victoria Island and a complete gambling license and regulation from the Lagos State Lotteries Board.  The bookmaker...


Visit Website