Best Betting Sites in Nigeria and their Payment Methods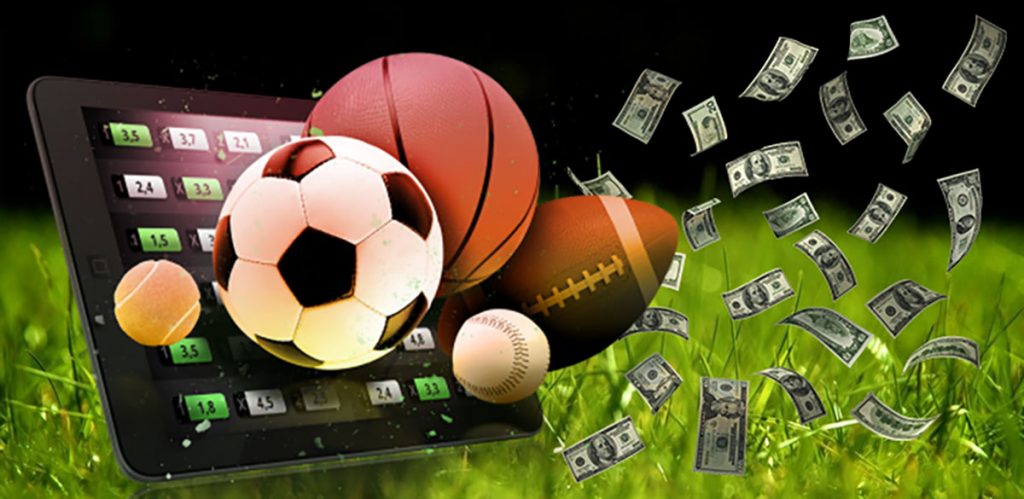 Being the largest democracy in Africa, Nigeria is not only home of legendary football stars such as Nwankwo Kanu and Jay-Jay Okocha, and the country where celebrated authors like Chinua Achebe and Wole Soyinka originated from, but also home to more than 60,000,000 passionate soccer bettors.
There are many betting firms in Nigeria, and a closer look at Nigeria's betting scene leaves one with the impression that lately, betting in Nigeria is an integral part of the country's culture.
There are hundreds of betting shops well spread across Nigeria's 36 states. However, with technology continuing to advance on almost a daily basis, the ready availability of the internet has seen a rapid emergence of online betting firms. Land-based betting companies have reduced in number with plenty of bettors opting to try their luck on online-based firms.
The National Lottery Regulatory Commission regulates all gambling-related activities in Nigeria with the legal gambling age stand at 18 years. Since the legalization of gambling in Nigeria, a majority of local bookies, such as Nairabet and Bet9ja, as well as foreign-owned ones, have entered this lucrative market while offering amazing opportunities to their clients.
But what are some of the best betting sites in Nigeria and their payment methods? This article presents you with the country's top betting sites in addition to their payment options.
1. BETWAY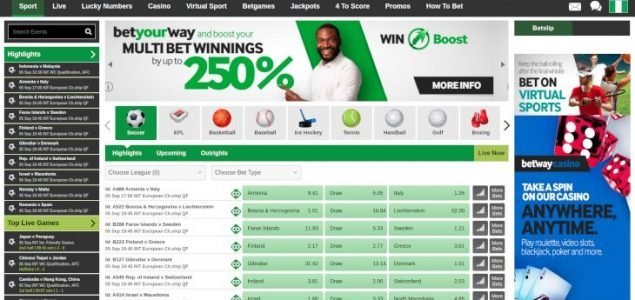 Even though Betway is a reputable international bookmaker with millions of clients worldwide, they also operate in Nigeria, having applied for a local license. Also known as Betway Nigeria, this is one of the leading mobile and online sports betting platform in Nigeria.
Having gone into the betting business way back in 2006, this firm is favored by a majority of betting enthusiasts based on its hassle-free sign-up process, excellent customer support, and one of the best user-friendly interface. Moreover, there's a vast array of bet types in addition to hard-to-resist competitive odds and promotions.
When it comes to banking at Betway, a lot of Nigerian bettors with accounts here are presented with a vast array of payment options to choose from. Unlike other betting sites with limited number payment methods, such is not the case with Betway. In terms of making deposits, players have the following methods available for them:
Visa
MasterCard
InterSwitch
Verve
GTBank
Zenith
Store deposit
Skye Bank
Diamond Bank
Direct Bank Transfer
Winnings or any withdrawals at Betway are available for Nigerian players via the same options listed above. Better yet, they can also be easily processed by the use of mobile transfer without any fees, and it takes less than 24 hours to complete.

2. 22BET
22Bet is equally another top international sportsbook with a license to operate in Nigeria under the name 22Bet Nigeria. 22BET is lately gaining ground and fast becoming a choice of many bettors in Nigeria based on a number of reasons, chief among them being its mouth-watering welcome bonus in addition to plenty of betting markets on Nigerian Professional Football League. 22BET also features some of the most attractive odds, especially on English Premier League matches. Moreover, 22BET still remains to be a popular choice of many Nigerian players on the grounds of daily promotions and in-play betting.
22BET is perfect for Nigerians based on the fact that the company accepts Naira. Deposits are fast and easy while using the 22BET platform, with customers able to deposit using more than 30 deposit options. Some of the most common ones include:
Bank Card (MasterCard, Visa)
Prepaid Cards (Neosurf, PaySafeCard)
E-Wallets (Skrill, WebMoney, EPay, PerfectMoney, Sticpay)
Payment Systems (Payeer, ecoPayz, Neteller)
Internet Banking (Providus Bank, GTB, Polaris Bank)
Cryptocurrency (DASH, Litecoin, Bitcoin, ZCash, Ethereum)
Any withdrawals can be conducted using the above deposit options. The minimum withdrawal here is N550, though one must withdraw using the same method that he or she used to make deposits. 22BET is slowly but surely turning out to be an excellent betting site for Nigerian clients based on plenty of reason, chief among them being its wide array of payment methods.

3. NETBET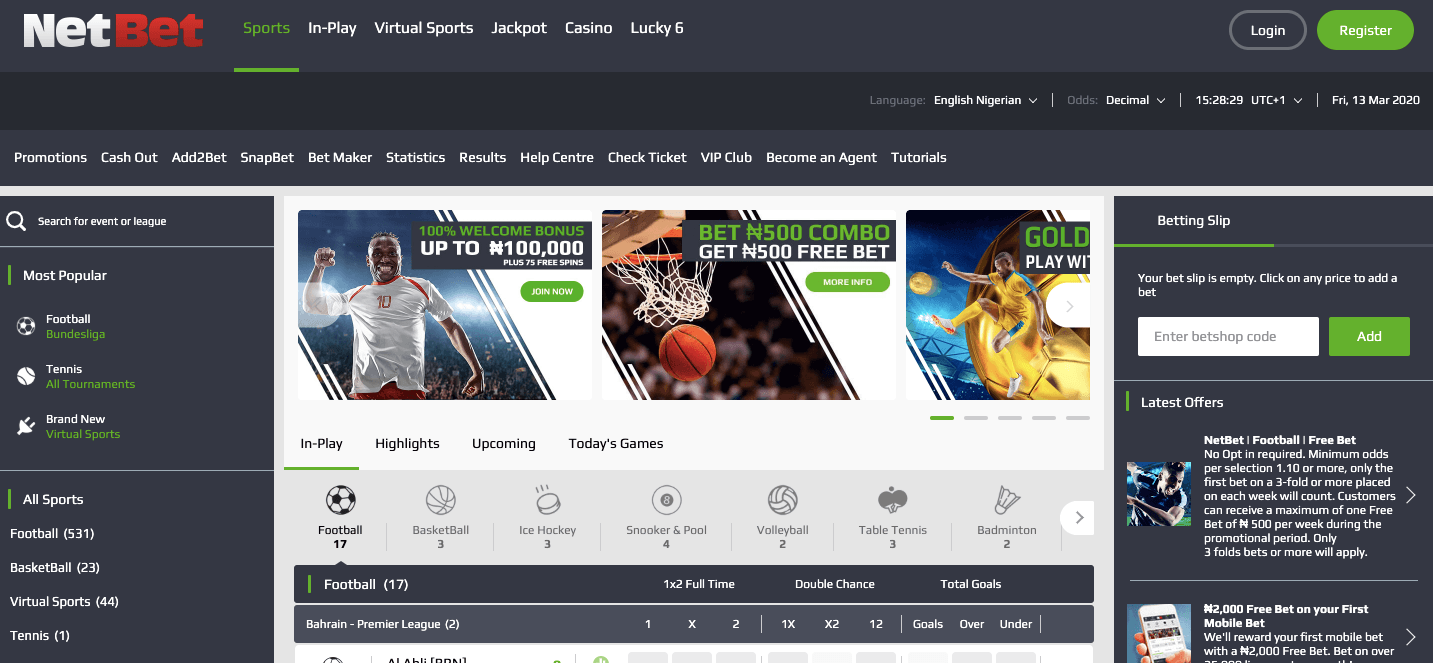 Netbet is one of those betting sites known for offering high-quality and several online sports betting experience to its customers. Formerly going by the name Bet770 and owned by a firm by the name Cosmo Gaming Company Ltd, the firm began its operation in Nigeria in 2011. Netbet operates under the Lagos State Lottery Board and has a great appeal to a majority of online players in Nigeria.
While NETBET is predominantly popular in French and English-speaking nations, now, the firm is making a lot of effort to enter other markets, with Nigeria being one of them. Plenty of Nigerians interested in worldwide gaming events find Netbet a good place to try their luck. Netbet Nigeria's interface looks similar to the European version based on its layout and design.
When it comes to payment options, customers have copious of getting funds into their Netbet accounts. Customers can use traditional methods such as MasterCard transfers and Visa to popular ones such as NetTeller, Skrill, and e-wallets. Plenty of funding methods do consist of a maximum deposit, though at most times, such will depend on the method used. Some of the most common deposit methods include:
MasterCard
Visa
Skrill
Neteller
Giropay
PaySafeCard
Cryptocurrency (Bitcoin)
Withdrawal methods that Nigerian players can use include:
Moneta
Qiwi
Visa
MasterCard
Neteller
Skrill
WebMoney
Bank Transfer
Netbet is undoubtedly an excellent all-round Nigerian sports book based on their competitive odds and plenty of easy-to-use payment options.

4. NAIRABET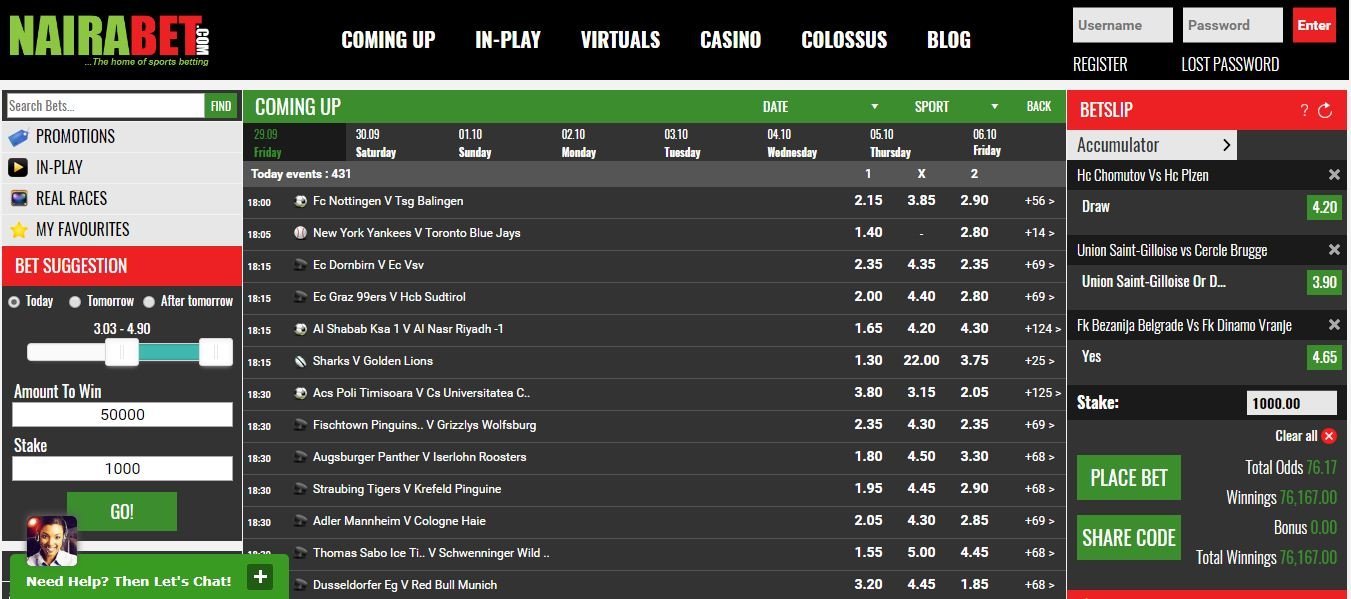 When it comes to sports betting in Nigeria, then NairaBet is the company to rely on. Being the oldest casino and bookmaker in Nigeria operating since 2009, NairaBet has a license to operate that was issued by the Lagos State Lotteries Board. Interestingly, NairaBet was established by a Nigerian philanthropist and politician by the name of Akin Alabi.
With more than 25 sporting events available, ranging from floorball to football and from darts to tennis, along with a vast array of markets, sports betting enthusiasts in Nigeria will be happy to wager with NairaBet online. That's not all with NairaBet. Minor and major competitions and leagues are here, not forgetting highly competitive odds, huge payouts, and a huge variety of betting types.
There are plenty of different methods of payment at NairaBet that customers can use. Depending on their preferences, customers can choose the following payment methods:
Pay agents
Bank deposit
Debit/credit card
Quickteller, Pay at ATM
BANKIT by eTranzact
Clients who win also get paid using the above payment methods. Of importance to note is that the 1000 NGN is the minimum payout with one request allowed per day. If you are in the market for a new betting platform, then you better try your luck with NairaBet, a betting firm known for being highly efficient.

5. BET9JA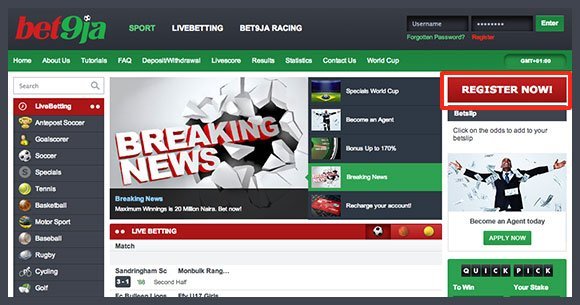 Bet9ja is by far, one of Nigeria's most efficient and complete sportsbook that offers both retail and internet services. Established way back in the year 2013, Bet9ja is the biggest sponsor of Nigeria's Premier League and regulated by the country's Gaming Authority. The real reason as to why Bet9ja is popular across the Nigerian gaming industry is based on the fact that they have in place the most competitive betting packages.
Apart from excellent in-play live betting that comes with excellent live streaming, Bet9ja offers everything that a true Nigerian bettor needs. Here, a bettor will find a wide array of more than 25 sporting events, from Bandy to tennis and from boxing to soccer, alongside a wide variety of betting types.
Concerning payment options (both deposits and withdrawals), Bet9ja is one of those firms that ensure that its clients are well catered when it comes to funding their accounts. There are several methods that are available when depositing and making withdrawals. At Bet9ja, though, Nigerian Naira is the only currency accepted here, with the minimum deposit not being less than 100 Naira. Deposit methods here include:
Verve
Visa
MasterCard
Interswitch
GTBank
ATM
PayCom
Withdrawals at Bet9ja are limited with only one method (Bank Transfer) being available to customers, an aspect that may come as a disappointment to others. But all in all, though, Bet9ja is, without a doubt, one of the biggest betting firms in Nigeria offering a good number of betting markets.

6. BET365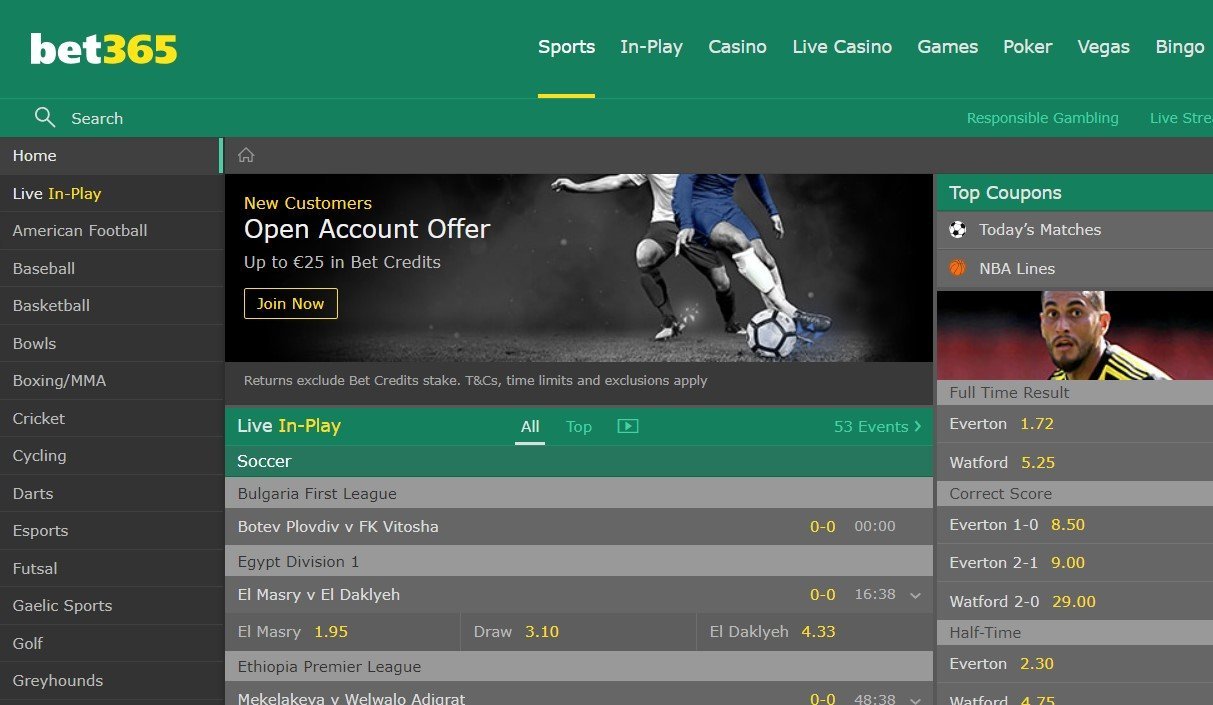 Undoubtedly, Bet365 is lately one of the most popular online betting platforms currently in business, with this sportsbook seemingly attracting hundreds of clients on a daily basis. Even though Bet365 is foreign-owned, the company also caters for Nigerian players since it has applied for a license to operate in Nigeria under the name Bet365 Nigeria.
Bet365 comes in as one of the best bookies when it comes to soccer, a firm known for high odds on Spanish La Liga, English Premier League, and the Italian Serie A matches. This is alongside plenty of betting options that the company provides. Bet365 is lately attracting plenty of Nigerian players based on the company's excellent mobile betting app and easy deposits without using popular international options.
Despite Bet365 not accepting Naira, there are plenty of other banking options that clients can rely on. Deposits can be made using the following methods:
Maestro
Mastercard
Visa
Neteller
Cheque
Paysafecard
Bank Wire
Skrill 1 – Tap
Skrill
Visa
Withdrawals are also available, and one can conduct them using all the above options except Skrill 1-Tap. Of importance to note is that minimum deposits at Bet365 begin at 2,358.48 Nigerian Naira. Bet365 is one of those sportsbooks that highly excel on both mobile and desktop. Even though Nigerian Naira is currently not accepted here, there are plenty of other options that customers can use to fund their accounts.

7. MELBET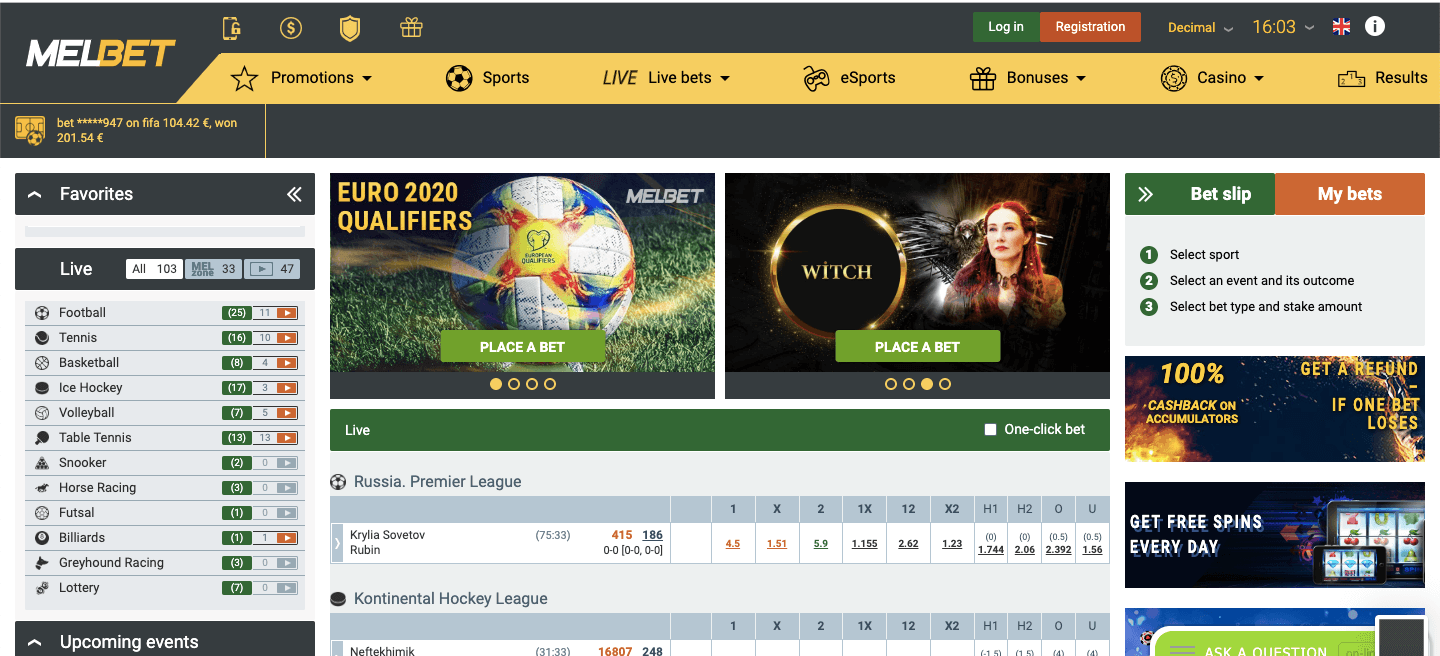 Melbet is an online betting firm administered by a Cyprus-based company by the name Bonnal Ltd, but in Nigeria, it is under Pelican Entertainment Ltd. Melbet began offering its services to Nigerian players back in 2012, and from then onwards, it has managed to stamp its authority as one of the go-to betting platforms. Bettors with accounts here get to enjoy a diverse sportsbook coupled with virtual sports, live betting, and casino.
Going by the name Melbet Nigeria, this is one of those online betting firms that comprehend the importance of ease-of-use interface. Players find their website super easy to navigate, and it is also very intuitive. The simplicity of this site makes it stylish and elegant, with a beautiful design that comes in attractive colors.
Another important feature for any bookie is their method(s) of payment. Bettors in and from Nigeria can fund their accounts using more than 20 deposit methods that include:
MasterCard
VISA
GTB
Neteller
Verve
Zenith Bank
Cryptocurrency
Astro Card
Perfect Money
E-wallets
Bank transfers
Just as customers can fund their accounts by using accepted currencies, they can also withdraw using the same way. However, one of the most common withdrawal method used by a majority of Nigerian players is by use of direct bank transfers. The minimum withdrawal allowed here is N360, with the payment currency either being Euro or USD.

8.LIONSBET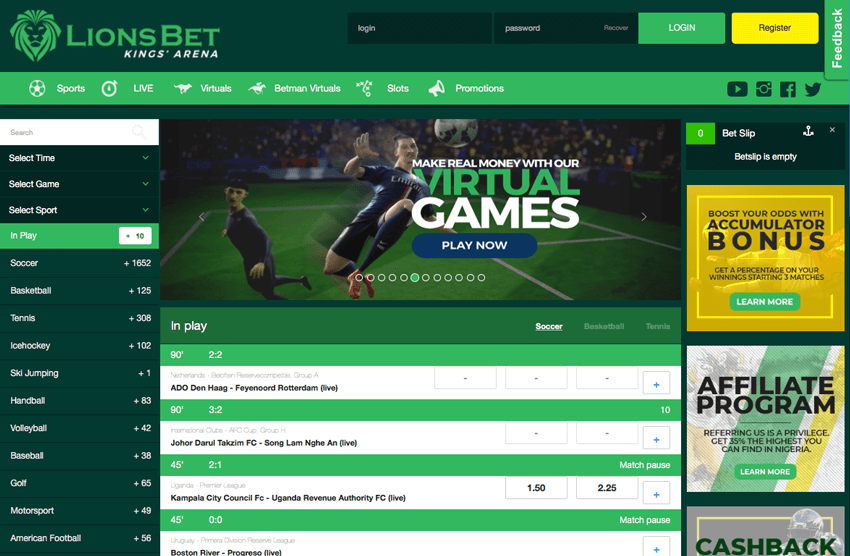 Going by the name Lionsbet Nigeria, this sportsbook is somewhat new to the betting industry and has been in operation for only 4 years now. Even though Lionsbet began its operations in Nigeria in 2016, the company has managed to carve its name on the hearts of Nigerian betting enthusiasts. Lionsbet did manage to do this by offering a wide array of virtual and sports betting markets in addition to having their services available on several platforms such as mobiles, web, and tablets.
Undoubtedly, Lionsbet is a favorite platform lately preferred by both new and old Nigerian players. From website design to the benefits and functions, everything screams Nigeria. Headquartered in Victoria Island, Lagos, the company operates under the Lagos State Lotteries Board license, meaning that the firm is legal and transparent.
Unlike other betting firms who may not process pay out fast, such is not the case when it comes to dealing with Lionsbet. They pay quickly, though some bettors in the country are of the opinion that the company needs to increase the number of limited deposit and withdrawal options currently in place. Those wanting to cash out their winnings can do so through Bank transfers. The following are deposit options available here:
Interswitch
Verve
Scratch Card
Paydirect
Quickteller ATM
Visa
Webpay Nigeria Deposit
If you are a player with no intention of taking advantage of in-play betting, then Lionsbet is your ideal betting platform thanks to the firm's great market coverage, high odds, and a majority of bonuses.

9. 1XBET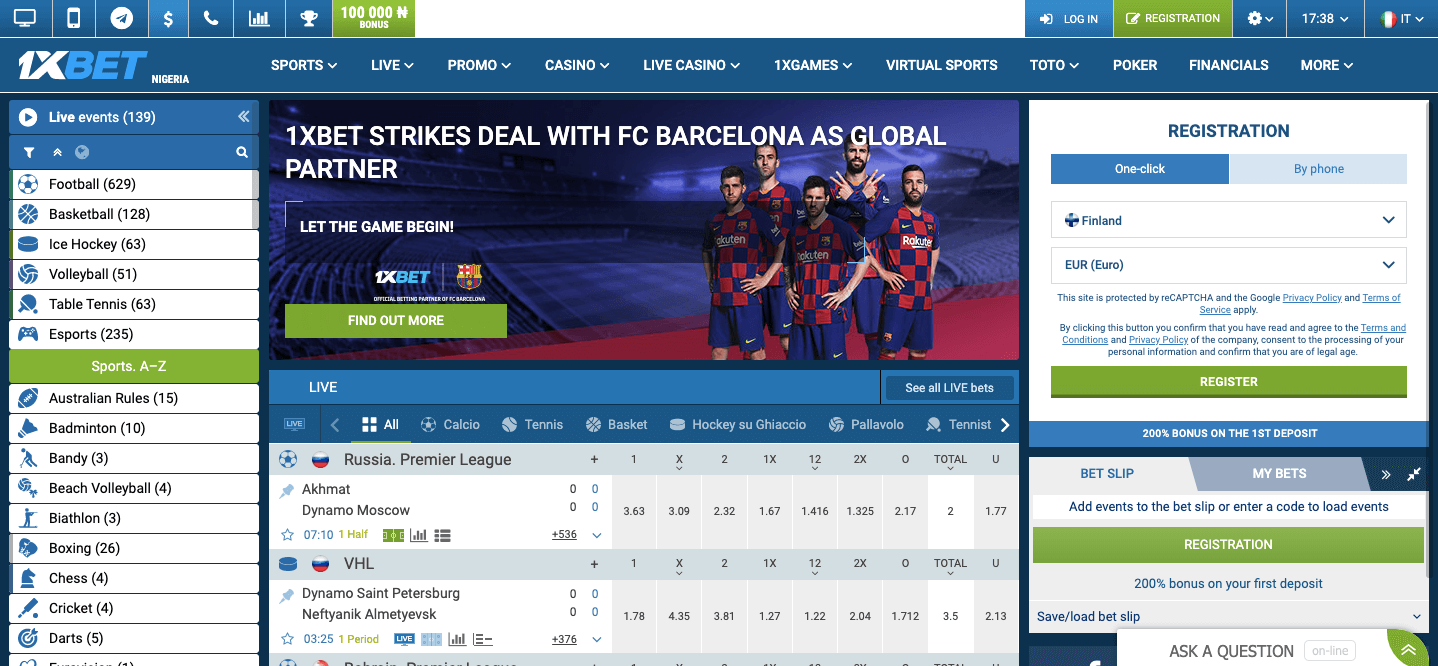 1XBET is a European bookmaker with millions of clients across the globe. Having established in 2007, the company became one of the first online sportsbook in the betting industry with over 1,000 betting shops. But 1XBET doesn't operate in Europe alone with the firm now branching out and extending their operations to other countries, Nigeria being one of them.
Also known as 1XBET Nigeria, this company offers its clients –both old and new- attractive promotions and bonuses. Better yet, 1XBET is regarded as one of the bookies consisting of the highest premier league odds on Premier League fixtures. That's not all. Plenty of new bettors in Nigeria find 1XBET ideal for them due to the company's mobile-friendly interface in addition to the ability of players to use Naira when making deposits.
When it comes to choosing a betting platform, clients go for firms that offer a wide variety of payment methods. In a bid to remain relevant in the face of cut-throat competition, betting companies realize that they have to put in place a wide variety of payment options. It comes with little or no surprise at all that 1XBET has got more than 200 methods of payment, with close to 30 of them currently available to Nigerian players.
The following are some of the most common methods payment options available for Nigerian Players:
FCMB
Sterling Bank
Access Bank
Visa
Mastercard
Neteller
Payeer
Skrill
EcoPayz
Epay
Perfect Money
GTBank
Cashevoy
Betting enthusiasts, especially those in search of a new betting platform with a range of betting markets, additional features, a wide variety of payment options, and a firm that accepts the Naira should seriously consider signing-up with 1XBET.

11. BETBONANZA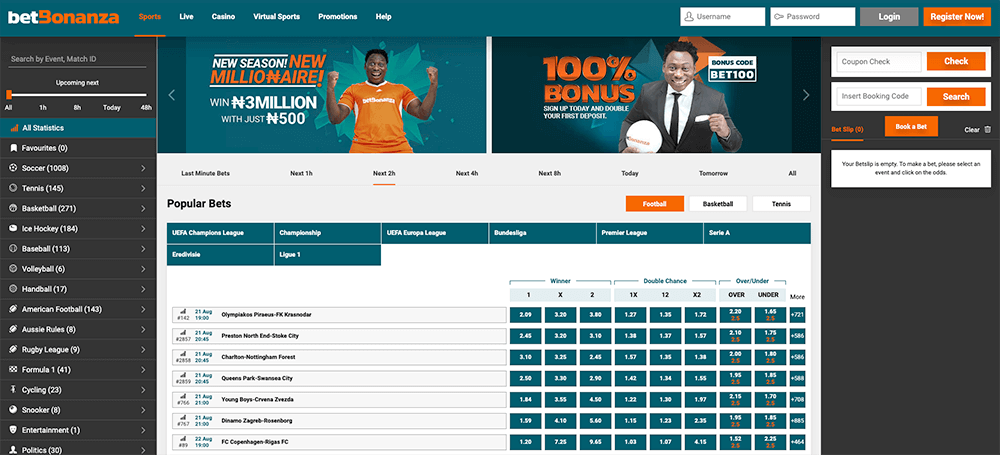 Having gone into operation in 2014, BetBonanza is one of those online Nigerian betting firms that promises its clients 'top-notch services'. Just like plenty of other betting platforms in Nigeria, BetBonanza is a legal firm having been licensed and carrying its operations under the watchful eyes of the Lagos State Lotteries Board.
Despite being highly organized, BetBonanza's website is easy to navigate, not forgetting the fact that this is one of those betting platforms known for handsomely rewarding its clients with irresistible loyalty programs and bonuses. For instance, there's a 100% bonus awarded to a player who gets to make an initial deposit to the site.
The options of payment available here are accessible and simple to Nigerian players as such payments can be undertaken in a matter of minutes. Even though BetBonanza doesn't offer a wide array of payment options, the ones available are some of the most popular and efficient ones. To make a deposit, one can choose to use the following:
WebPay
Paydirect
Quickteller
USSD
ATM
Quickteller web
The same methods apply when carrying out withdrawals in case of winnings. Players need to use the same method that they used in making deposits to withdraw funds to their accounts. The minimum deposit is 100 Naira, while the minimum withdrawal is 200 Naira.
BetBonanza is one of those betting sites that started well and continues to do so. This firm deserves some credit for affording its client's excellent products.

The Bottom Line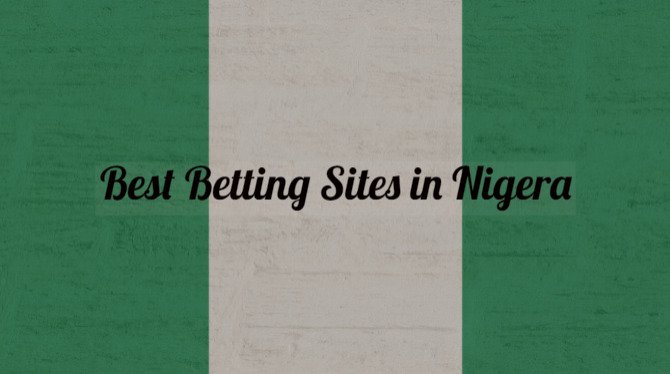 Having gone through all the above information regarding the best betting sites in Nigeria, coupled with their payment options, we believe that as a bettor in Nigeria, you are armed with good information before signing –up with one or several of them. You do not want to be part and parcel of a shady betting firm whose reputation is negative.
Among other things, you do not want to lose your hard-earned cash to betting firms that are out there solely to profit from you. Perhaps, you may be wondering as to why you need to believe in our opinions. Remember that we possess an unrivaled amount of experience across the gambling industry in addition to excellent levels of knowledge regarding features and other terms offered by bookies.
As a Nigerian player, our intention is to see you having a pleasant betting experience. Remember that choosing the right sportsbook to wager on shouldn't be a gamble at all. By consulting our sportsbook first, rest assured that picking the right bookie just turned out to be a safer bet for you. All the best as you attempt trying your luck with any of the ones mentioned above!
Relevant news